Entertaiment
10 Male K-Pop Idols Who Made The Animal Ears Headband Extra Cute (Part 1)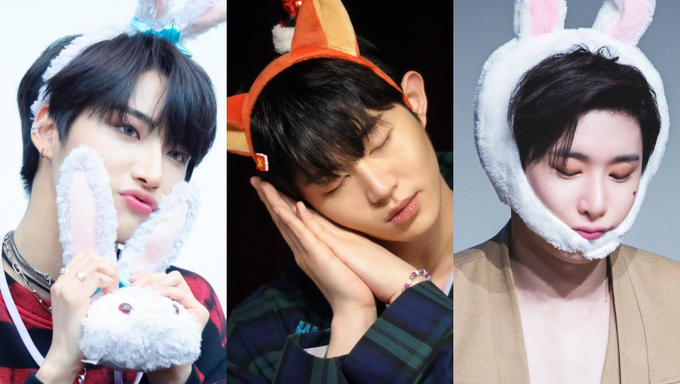 The animal ears headbands to many fans is an important accessory as when dawned by many of their favorite idols, it leads to a heart-gushing, experience. Rabbits, cats, bears or foxes, at fan sites events, v-lives, or just a social media update, these headbands have become a staple accessory for many K-Pop idols. It is sort of a catalyst that spurs up various emotions ranging from smiles to screams of excitement in many fans. 
Here are some of the male idols the animal ears headband look extra cute. 
The number of animal ears headbands that WonHo has might be the 8th wonder of the world, a total mystery, and probably the most exciting one. A true bunny, fans gravitate towards WonHo because of his bright, loving, and adorable personality that exudes a certain level of warmth and care that feels comfortable. 
If you search for the meaning of the words "cute" and "adorable", this image has to come up as a result because these are the literal definition of those terms. Absolutely endearing, HyunSuk looked like an adorable little bear that would make your heart swoon and legs quiver with every movement he makes.
Can you spot any difference between the plushie and SeongHwa? We think not. The idol might be one of the Hyungs in ATEEZ, but his soft boy visuals and loveable personality often make fans and viewers question that fact. Cute with a winsome personality, with this headband on, SeongHwa's looks are even more captivating and appealing. 
Onstage LeeDo is the fierce and vibrant performer with a commanding stage presence that is so magnetic but offstage he has a chill and calm presence. This speaks so much to his duality. With his exceptional visuals and ever so adorable nature, LeeDo in a bear headband is truly a fascinating sight to behold.
There's nothing more perfect than Kim YoHan's visuals. Well, that is till you add a bunny headband on him and then you get an extra level of perfection. Handsome and equally charming, in this look, the idol possesses so much appeal that could make the hearts of fans burst from excitement and admiration. 
Tall, fit, and handsome, Ciipher's Tan makes the cat headband look more than just an accessory but an extension of himself and his personality. Sharp, bright, and adorable, he seems to have a playful nature that is a magnetic source of attraction that makes people easily gravitate towards him. Quite similar to a cat. 
Armed with a cheeky smile that could brighten anyone's day, PIHarmony's InTak looks even more endearing with a bunny headband on. His adorable pose with this headband on will definitely make fans beg the question "why are you so cute sir?"
Felix's visuals have always been considered top tier but with this headband on, it looks like a whole other level of perfection. Adorable and ever so handsome, with his freckles, he exudes so much innocence and warmth that might complement his personality. 
Always with a smile on his face, Q is one idol who looks absolutely good in everything he wears, and in this bunny headband, he looks even more sweet and charming. A fan favorite for his charming looks and cheerful personality, the idol's spirit animal could be a bunny, as they both possess similar attributes. Well, offstage that is. 
Bunny headbands never looked more deadly till they wear worn by WonWoo. With a gaze so haunting and yet adorable, in this picture, WonWoo looks that stern but also the kind professor that students find cool, chic and gives great advice. 
Source link