Entertaiment
10 Most Unique Meanings Behind The Stage Names Of Famous K-Pop Singer-songwriters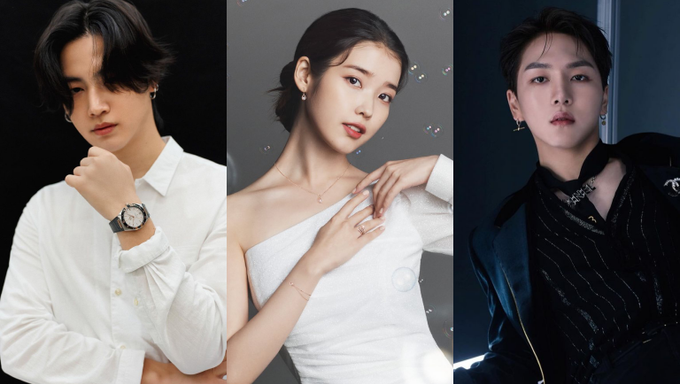 Do you know just how much creativity goes into choosing a stage name for famous singer-songwriters?
K-Pop's most famous singer-songwriters are best known for their creativity, but that creativity goes beyond their songs. That same creativity can be found when you look into the meanings of their stage names. 
So, we've compiled a list of 10 K-Pop and K-R&B singer-songwriters who have unique meanings behind their names.
IU's real name is Lee JiEun. She chose the stage name IU as a combination of I and U, meaning she (IU) and you (the fans) can become one through music.
Crush's real name is Shin HyoSeob. He revealed that his middle school friends used to call him Shi Seob (which he wrote as C-Sub) for short. When he was about to debut, he wrote C-Sub, but his friends accidentally read it as Crush. For some reason, he liked it so much that he decided to use it.
GOT7 Jay B's real name is Lim JaeBeom. He uses the stage names Jay B (a nickname) and Def.. Def. is short for Defsoul which was inspired by American R&B artist Musiq Soulchild. 
GOT7's Jay B once explained that he has different personas when he produces music. His Jay B persona cares more about what other people will think of his music or want to hear. He creates more mainstream music. However, Def. is the opposite of that and creates whatever music he wants to without thinking about others' opinions.
PENTAGON Kino's real name is Kang HyungGu but he wanted a stage name representative of himself as a singer. So, he came up with Kino. The 'K' is from his family name Kang and the 'INO' is short for innovation.
Heize's real name is Jang DaHye. Instead of using her pretty name, she wanted something more fierce. She took the German word Heizen – meaning to give off heat – and created Heize. It fits her fierce personality well as she continues to drop hot hits. She's also a big fan of Angel Haze, an American rapper. 
Zico's real name is Woo JiHo. When he was young, he studied abroad in Japan. His Japanese friends would call him Ji-Ko as a nickname. When he decided to debut, he took on that name as a reminder of his close ties and officially became known as Zico.
B.I's real name is Kim HanBin. B.I. came up with his stage name to represent his ambitions as an artist. It stands for 'Be I' which means that he can be anything that he wants to be.
SEVENTEEN WooZi's stage name came from a nickname given to him by staff members. His real name is Lee JiHoon and the staff members used to call him 'Uri JiHoon' (which means 'Our JiHoon'). He decided to take the first sound of 'Uri' (also romanized as 'Woori') and the first syllable ('Ji' also romanized as 'Zi') of his name and put them together to make WooZi. 
DAY6 Young K's real name is Kang YoungHyun and his English name is Brian Kang. Fans often call him Brian but he prefers to be called Young K. He created the stage name Young K as a combination of his family name initial and his name.
Young K uses his stage name as an alter-ego for the cool, dependable artist that he wants to be. He feels like the use of any other name lessons the effect of when he is called Young K. 
Epik High Tablo's real name is Lee SeonWoong and his English name is Daniel. When he entered the industry there were too many Daniels/Dannys so he decided to go for the name Tablo which came from the French word 'tableau' which means he is an artist 'painting a picture/portrayal/scene'. 
What do you think of these artists' names? Let us know in the comments!
Still not following Kpopmap? Follow @kpopmap