Entertaiment
11 Male K-Pop Idols Who Look Extra Cute In Glasses (Part 2)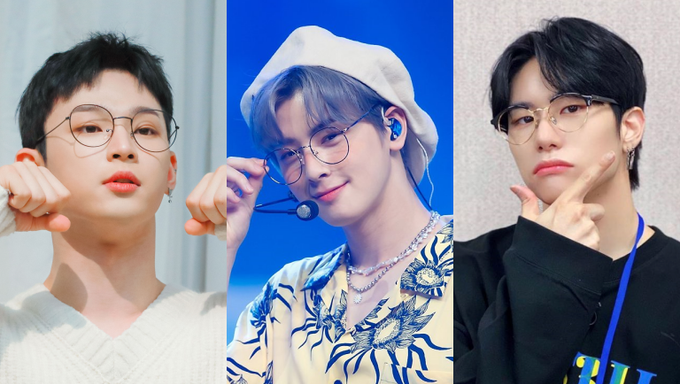 Clear glasses are one of the key accessories worn by K-Pop idols. Giving them an extra layer of cuteness, this everyday piece of accessory on a K-Pop idol has the power to make fans swoon with love and admiration.
Here are some of the K-Pop idols who look extra charming in clear glasses.
The face genius derives his name from his outstanding visuals that are incomparable to no one else and makes everything he wears look extra chic, stylish, and stunning. His duality to fit into any concept is uncanny. From looking like a fashion model straight from the runways to looking so cute and nerdy in glasses. This almost toned-down look makes him even more endearing.
Asides from his stellar musical and acting skills, TREASURE's Haruto is a fan favorite for his unique visuals. Visuals that could make a non-fan turn to Teume. Known for his charming and bright personality and armed with a smile that could make you gleam from ear to ear, in glasses, his charms are even more amplified and easy to make you fall for him.
His soft boy visuals and charms give definition to the term "handsome" and in clear glasses, the idol looks refreshingly cool and adorable. The vocal powerhouses' duality is clearly uncanny as he switches from a vibrant performer on stage to a cute puppy-like persona offstage. Either way, fans are always thrilled to see the impressive visuals of SeungHun.
The idol whose ship many fans are about to onboard as he embarks on a journey with "Voyager" has also often created waves of excitement and made hearts beat faster when he dawns on a pair of clear glasses. Cute, sensual, and with a hint of mystery that is so intriguing, in glasses, KiHyun is undeniably attractive.
LeeDo's striking visuals make everything he wears a fashion moment and clear glasses are one of them. This simple accessory is made even more special when matched with his charms making him look extra cute and adorable. 
There is no doubt that SeungSik is handsome but whenever he dawns on a pair of glasses, his looks are even more stunning. Dignified, elegant, stylish, sensual, and ever so charming, these are a few of the qualities that could be attributed to a "SeungSik in glasses" moment.
Ten is one of those idols whose looks are used for mood boards and inspiration. His looks both on and off the stage are always iconic. The idol also seems to favor wearing glasses too and in clear glasses, even in his chill time, he still looks effortlessly chic.
His baby face is one of the key points of his encyclopedia size book full of charms. Always with a bright smile on his face, in glasses, he radiates an even more welcoming and warm aura that people would find very attractive.
Who else can turn a simple selfie with glasses on and make it look like an ad campaign? CRAVITY's MinHee that's who. Armed with captivating visuals and a shining aura, he makes a pair of clear glasses look like the next coolest thing and have viewers wondering if they need to shop a pair or three.
The quintessential boy next door that everyone completely adores and wants to be best friends with. Ha SungWoon is cool, smart, and stylish. His colorful, refreshing, and often time out of the box style, matches his personality, always radiating a bright and shining light that truly befits his stardom. Even in clear glasses, with the idol, it feels like an iconic fashion moment.
The power that Kim TaeDong holds in glasses is unrivaled. His striking visuals, bright and energetic personality makes this look even more appealing and endearing. Fans and viewers always seem to enjoy seeing the idol in a pair of clear glasses, and frankly, so do we. 
Which other K-Pop idols do you think look amazing in glasses. Share some of your options in the comments section below. 
Source link