Entertaiment
7 Male K-Pop Idols Who Have Thrilled Fans In Cross Dresses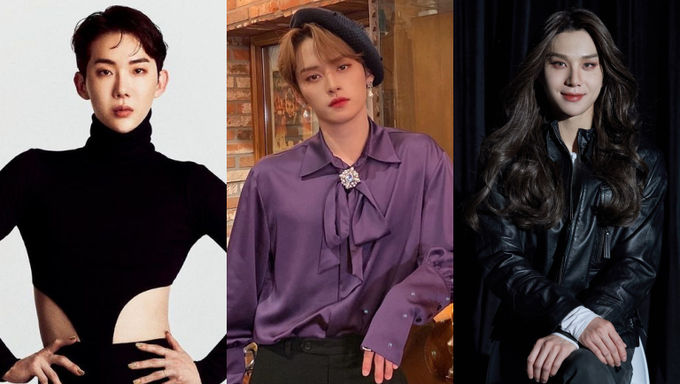 It is not a relatively new thing to see a K-Pop idol wearing a female outfit. 2nd and 3rd generation idols have often entertained fans on stage glammed up in female outfits while performing songs by girl groups. Although these days we rarely get to see idols do these types of concepts, it is still a moment that many find adorable and cherish when their favorite idols cross-dress. 
Whether for Halloween, a stage performance, or starring in our favorite K-Drama series, here are some of the male K-Pop idols who look exceptionally pretty when they cross-dress.
GOT7's JinYoung was definitely one of the K-Drama scene stealers in 2021. The idol and actor left fans and viewers in total awe and admiration when he appeared dressed as a woman in the drama series "Yumi's Cells". Though an imaginative character by Yumi (played by Kim GoEun) who assumed he was a woman, in the couple of scenes he first appears in, viewers couldn't get over how gorgeous he looked. From his soft-toned voice to his warm interaction with Yumi, it wasn't just about the dresses it was more about his persona which was absolutely beautiful. Watch at 5:10 minutes to see his behind-the-scenes cute moments with Kim GoEun. 
The most collection of Disney princesses we would ever see in one video. The members of WayV thrilled fans with a Halloween special performance of their song 'Bad Alive' dressed as Disney princesses. With funny, cute, and charming performances, the members looked stunning in their various looks. Can we take a moment to appreciate YangYang's dedication to the performance? That outfit was made for swimming not dancing. 
Kevin dressed up as the Disney villain character Cruella Deville for 2021 Halloween and everyone was shocked by his look. Detailed to perfection, every single point of the transformation was like a picture cut out of what fans have read and characterizations of the Disney villain.
JungWoo dressed like Bella Swan the main character from the "Twilight" saga for this Halloween version of NCT 127's song 'Favorite (Vampire)'. And he looked as beautiful as ever. With the long brushy hair, the makeup, and the leather outfit, he was a mirrored version of the character from the movie and some might say, he looked better. Click here to also watch the make Halloween treat bags. 
Lee Know shocked many by how stunning he looked when he dressed as Jang ManWol the famous character from the series "Hotel De Luna". Purple might be his color because he looked so rich, elegant, and beautiful in this outfit. In this same video, Felix also dresses like everyone's favorite Disney character, Elsa. With his visuals and adorable charms, it is no surprise that the idol looked stunning in this outfit. 
ONEUS' Xion dressed as the Disney princess character Snow White for Halloween and looked absolutely stunning. With his already striking visuals, he looked like a true princess in the look, draped in a stylish gown while his 5 dwarves dote on him.
The idol has often thrilled fans and viewers with his expressive and stylish looks. The fashion icon has cross-dressed many times, from delivering an iconic Beyonce stage performance of 'Crazy In Love', musicals, magazine shoots, ad campaigns, or just being expressively creative in Drag. One thing is for certain, in every look or concept, Jo Kwon looks absolutely beautiful.
Which idol do you think looks best while cross-dressing? Share your favorites in the comments section below. 
Source link