Drama Riview
8 K-Drama Actors Who Makes The Hearts Of Fans Swoon In Beards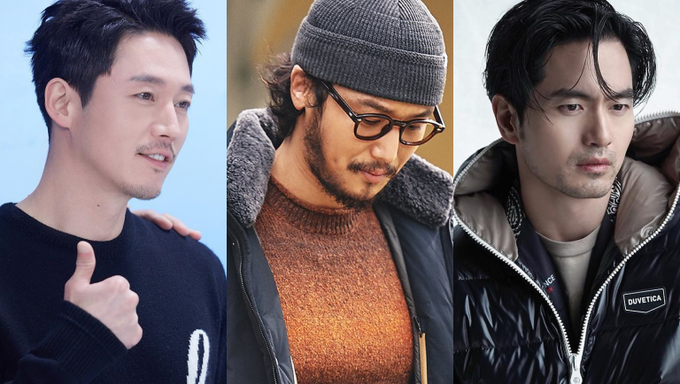 Can K-Drama actors look even more handsome than they already do? Yes, with beards of course. 
K-Drama actors in facial hair is not a regular look that many fans get to see often, however when they do, there is a certain level of charm and distinction that makes them even more handsome and appealing. Some keep facial hair to fit the description of a character in a drama, others probably missed a razor day or two. Trimmed and clean, rugged or messy, in any style, fans tend to appreciate some of these actors who effortlessly pull off this look.
Here are some of the K-Drama actors who in real life or in a drama series have made the hearts of fans swoon while rocking a beard.
He first stole our hearts in his quiet but fearless character in the Netflix drama "Sweet Home" and with "Bulgasal: Immortal Souls", like many fans, we can't help but fall harder for him. Asides from his stellar acting in the series, he looks charming in beards, radiating a very manly aura to fits the rugged look of his character.
SUPER JUNIOR's SiWon is one of the acting-dols who is no stranger to keeping a beard and showing off how good he looks in them. Whether for a role or in real life, the actor and singer prove shaven, stubble, or full-grown facial hair, his visuals are still charming and captivating. He has also kept his beards while playing roles in hit series like "She Was Pretty" and "Work Later, Drink Now".
3. Park HeeSoon
He might have been the bad guy in the Netflix hit drama "My Name" but he definitely won the heart of fans over with his visuals and commanding presence that exuded a sensual and alluring appeal.
The actor is another star who has grown and kept a beard both on and off-screen. The "Move to Heaven" and "Taxi Driver" star is often regarded by many as one of the most handsome K-Drama actors, with his sharp facial features and incredible physique. Facial hair or clean-shaven, in any style, Lee JeHoon will always make the hearts of fans quiver.
5. Byun YoHan
Byun YoHan is another actor who is famous for growing out his facial hair. And we must say, we are glad he does. Trimmed and well kept, with beards, he looks like a distinguished professor or an author. For roles in "Mr. Sunshine" and "Six Flying Dragons" and the movie "On the Line", he notably had facial hair to fit the role of his characters. Off-screen, he seems to also like the look, as he has often shared pictures of him with a full set of beards.
6. Kim JooHeon
The "Now, We Are Breaking Up" and "It's Okay To Not Be Okay" star joins this list for his stunning looks which are even made more distinct with his facial hair. Often tagged by fans as the "most hardworking actor in K-Drama world" for how busy his acting schedule is, one might say that's the reason why he has often skipped a razor day or two. Busy, for a role, or just his natural disposition, the actor definitely looks very handsome with a beard.
We rarely get to see Jung HaeIn with facial hair, but it could be described as the feeling of finding an extra rare item. The actor whose visuals already have the hearts of fans racings wild every time he appears on the screen. For his role in the drama "While You Were Sleeping" he surprised fans and viewers with a scene where he had facial hair grown out. Many were expressively shocked by his look and commented how handsome he looks with facial hair.
8. Jang Hyuk
The beard might be his signature look. The actor is known for his remarkable visual features, which with beards, exudes an exotic look. With beards, both on and off-screen, he has delighted fans and viewers, who often compliment how handsome and elegant he looks. 
Which of these actors do you think look best in facial hair? Share your answers in the comment section below. 
Still not following Kpopmap? Follow @kpopmap