Living
Breville Barista Express Impress Review | Espresso Machine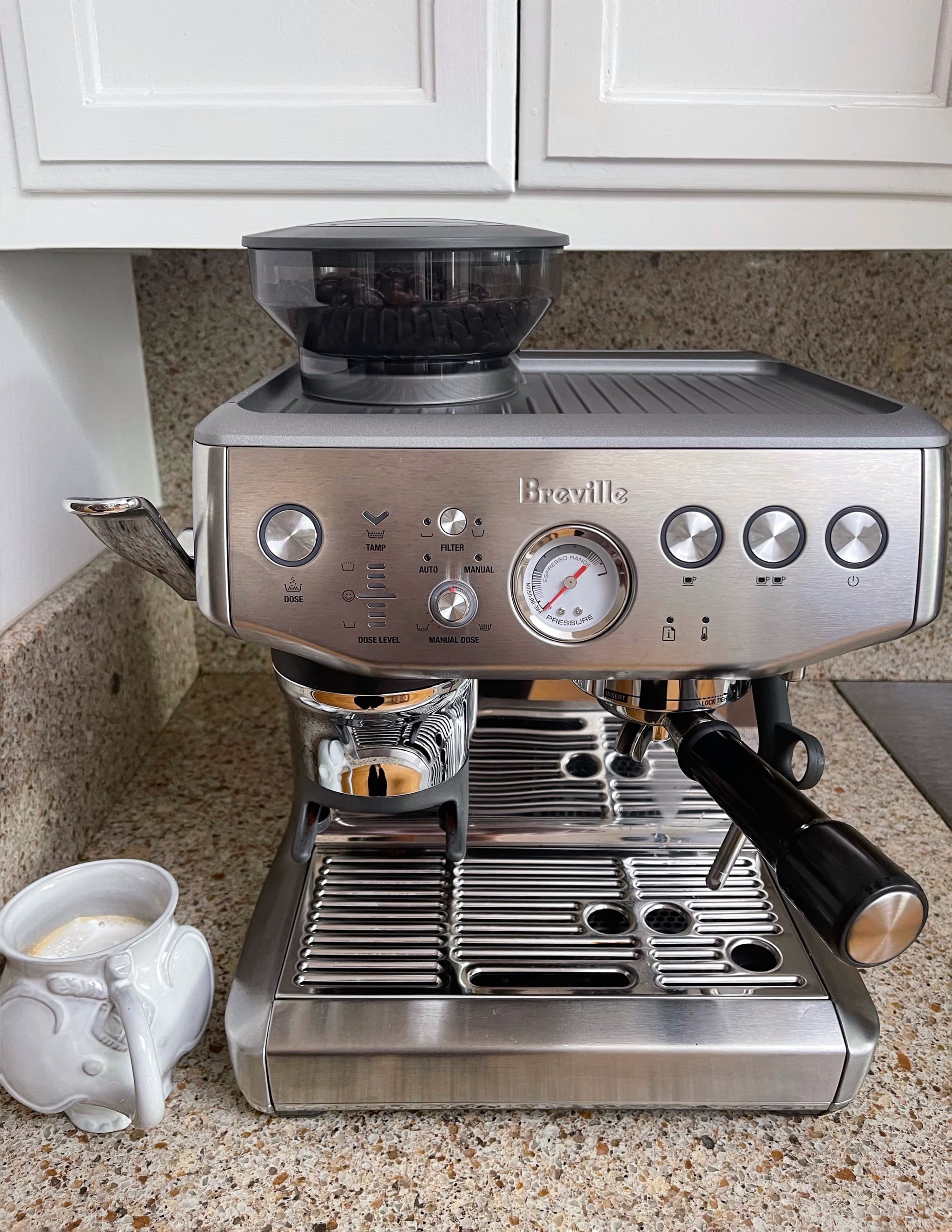 I've owned the same Keurig coffee machine for almost a decade, but continued to splurge on countless oat milk lattes and foamy cappuccinos — my favorite way to get through a Monday. I fantasized about owning a fancy espresso machine, but figured it would require barista-level skills or unhurried mornings to use it.
When I heard that Breville released the Barista Express Impress ($900), a new espresso machine with an impressive puck system aimed to deliver the perfect dose with an accurate tamp, all while minimizing mess from grinds, my interest piqued. To gauge whether Breville's new Barista Express Impress could truly transform a skill-less espresso novice like myself, I put the machine to the test, grinding beans, pressing buttons, tamping and steaming to see if I could get the hang of it and whether the taste payoff would override the ease and convenience of my Keurig.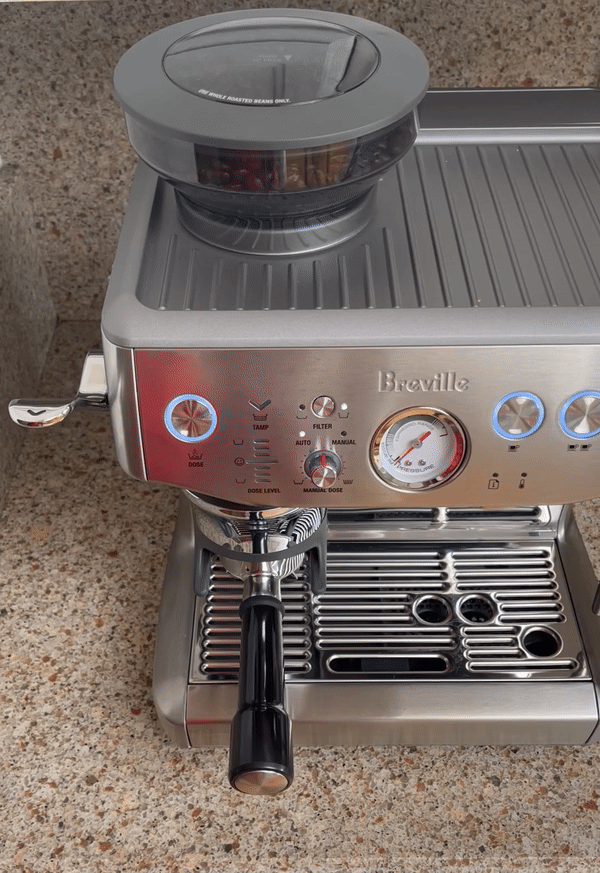 What I Like About the Breville Barista Express Impress
As a newbie, I appreciate how the machine's intelligent dosing system goes through an automatic trial and error process, calculating and adjusting the dose of freshly ground beans based on the result of the last grind and tamp. It's a smart system that takes note and improves without you having to figure it out. All I have to do is push the dose button, pull on the assisted tamp lever, and then look at the built-in tamp gauge to see if I nailed it or need to adjust.
The glowing green smiley face means that the perfect dose and tamp have been achieved, something that would normally take a lot of skill and practice if I were doing it all manually. If the dose doesn't deliver enough coffee grinds, the bars beneath the smiley face light up, in which case I just hit the dose button again to reach the desired dose. If the bars above the smiley face light up, that means I have too much coffee grinds, which can be fixed by running the provided razor over the surface to get rid of the excess grinds. While I usually get the glowing green smiley face on my first try, both scenarios of having too big or too little of a dose are an easy fix.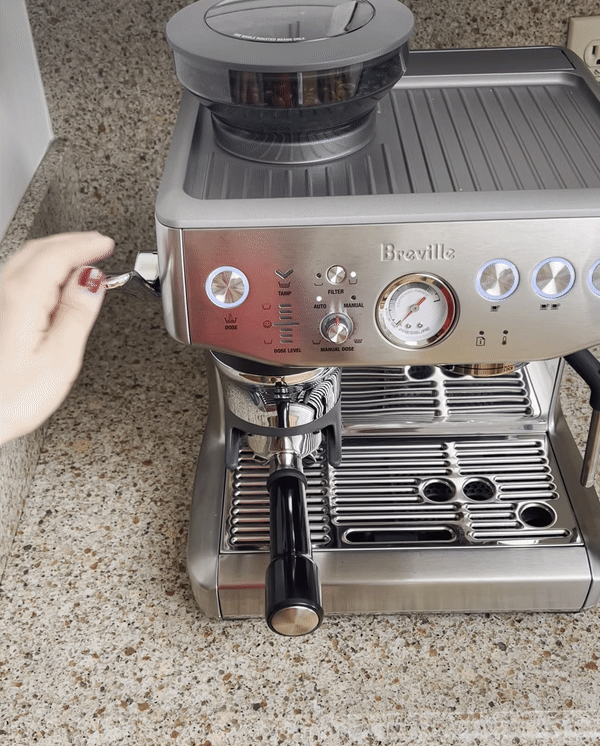 I also love how the built-in coffee grinder and micro-foam steamer pull everything I need together in once place without having to bother with separate equipment. It even has an extraction pressure gauge to provide guidance on the perfect grind size for the beans I'm using. With 25 grind settings to play with, this really helps me get the best extraction and flavor.
What's Worth Noting About the Breville Barista Express Impress
At $900, it's definitely an investment, but if you're a coffee lover who regularly splurges on barista-crafted espresso drinks, it pays for itself within a year. Aside from the price, the sheer size of the machine is worth noting as well. If you have a small kitchen that lacks counter space, this will definitely take up precious countertop real estate. Measuring 16.1 inches high, I have just enough room to place my Barista Express Impress on the outer edge of my countertop so that I can open and close the cabinet, but I can't scoot the machine all the way back towards the wall because it won't fit under my cabinets. Even though there is room on the counter behind the machine that I can't really utilize now, it doesn't bother me since I have a good amount of counter space. I might feel differently though if every inch of counter space counted.
Who the Breville Barista Express Impress Would be Best For
The Barista Express Impress is perfect for someone who's looking to level up their morning routine but doesn't necessarily know their way around an espresso machine. If they have the counter space for this aesthetically-pleasing espresso machine, want to enjoy coffee-house-level espresso drinks without barista-level skills and need a machine that's intuitive, relatively mess-free, and pretty quick to execute, this machine will be an awesome match.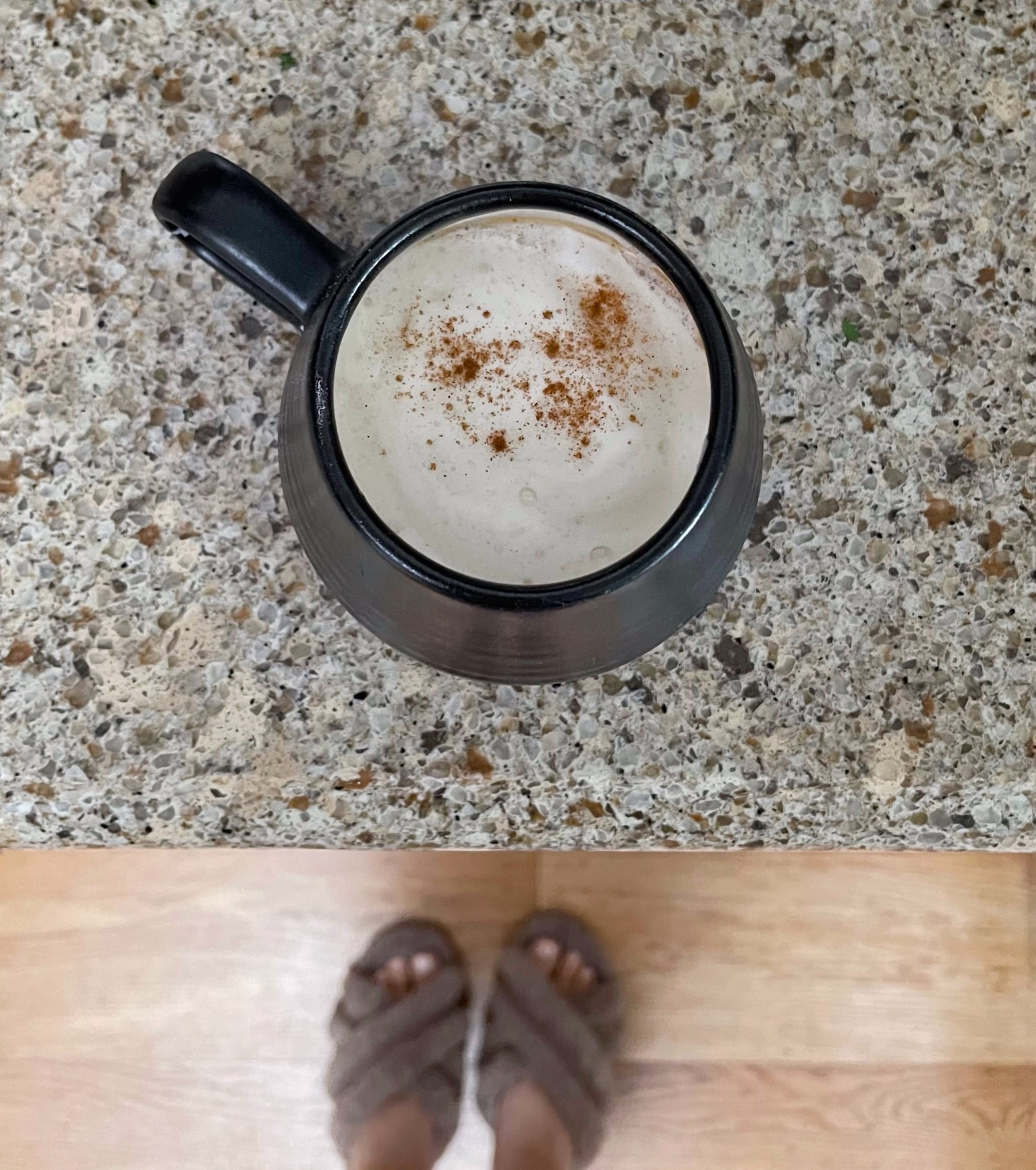 Additional Details
Dimensions: 12.9″ x 14.9″ x 16.1″
Warranty: Two year repair/replacement (at the sole discretion of Breville)
Accessories include: a 54mm stainless steel portafilter, 480ml stainless steel milk jug, one and two cup single and dual wall filter baskets, water filter holder with filter, the Razor™ precision trimming tool, cleaning tablets, allen key, steam wand cleaning tool, cleaning disc, cleaning brush, descale powder
Where Is the Breville Barista Express Impress Available?
The Breville Barista Express Impress is available at Breville, Amazon ($895), and Williams Sonoma ($900).
Rating: