Living
Christmas Trivia: 61 Questions and Answers For the Holidays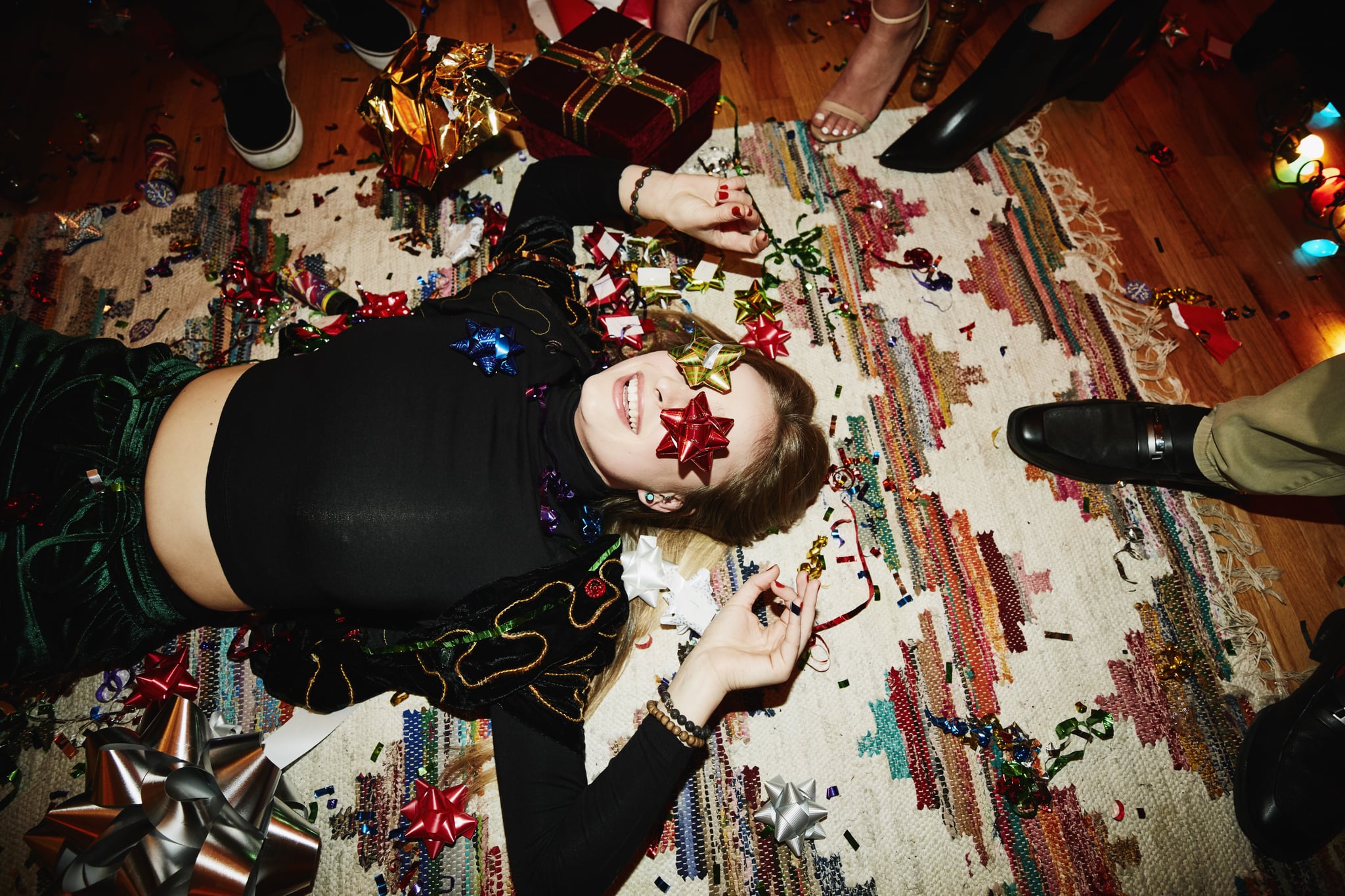 The holiday season is a busy one — and a fun one. There are presents to wrap and gift, Christmas dinners to cool, decorations to hang inside and outside the home, family get-togethers to arrange, and holiday movies and shows to watch. But a sleeper activity is Christmas trivia.
Trivia is always a great option when hosting big crowds, as it's something people of all ages and abilities can participate in. An innocent game that involves the whole family is just as fun as a game among your friends that includes some racier questions too. Hosting a trivia game at your Christmas party is bound to get your guests in the competitive and fun mood after opening presents and filling up on food, and it can last as long or as short as you'd like.
From Christmas movies to music and even quotes, bring this ultimate list of Christmas trivia questions for your guests to answer. For bonus fun, have your guests keep a tally of how many questions they got right and give out prizes for first-, second-, and third-place winners. Let the trivia begin!
Christmas Movie Trivia
These Christmas trivia questions focus on both modern and classic holiday movies.
In "Home Alone 2: Lost in New York", what popular city does Kevin's family travel to for Christmas? Miami
In "A Christmas Story", what toy does Ralphie desperately want? A Red Ryder BB Gun
In "A Christmas Story", who gifts Ralphie a pink bunny onesie for Christmas? Aunt Clara
In "The Santa Clause", why does Scott Calvin assume the role of Santa Claus? A startled Santa Claus accidentally falls off Scott's roof and dies
In "Elf", what are the four main elf food groups? Candy, candy corn, candy canes, and syrup
In "Elf", what is the name of Santa's super sled? The Kringle 3000
In "Elf", what delicious concoction does Buddy make for his stepmom, Emily? Spaghetti with Pop-Tarts, M&Ms, chocolate syrup, maple syrup, and mini marshmallows
In "How the Grinch Stole Christmas", what is the name of the Grinch's dog? Max
In "Christmas With the Kranks", what precious item does Nora end up fighting over at the grocery store? Mel's Hickory Honey Ham
In "National Lampoon's Christmas Vacation", how many lights are on the Griswold house? 25,000
In "A Charlie Brown Christmas", what color is the ornament Charlie Brown puts on his Christmas tree? Red
In "Miracle on 34th Street", why is Kris Kringle hired to play Santa in the Macy's store on 34th Street? The man who was supposed to play Santa is drunk
In "It's a Wonderful Life", what is the name of the angel who saves George Bailey? Clarence Odbody
In "Jingle All the Way", what is the name of the sought-out action figure that the lead character is trying to get? Turbo Man
In "The Polar Express", what popular hot beverage is served to the children on the train? Hot chocolate
What are the three ghosts featured in "A Christmas Carol"? The Ghost of Christmas Past, the Ghost of Christmas Present, and the Ghost of Christmas Yet to Come
In "The Nightmare Before Christmas", what does Jack Skellington call Santa? Sandy Claws
What is the highest-grossing Christmas movie of all time? "Home Alone"
How many sizes does the Grinch's heart grow in "How the Grinch Stole Christmas"? Three
In "The Holiday", which city does Amanda live in? Los Angeles
Christmas Music Trivia
These Christas music trivia questions definitely contain a few stumpers!
What was the first song played in space? "Jingle Bells," played on spaceflight Gemini 6A in December 1965
Instead of a white Christmas, Elvis sings he is going to have a sadder holiday in which 1964 hit? "Blue Christmas"
What do the Beach Boys call Santa Claus in their popular 1963 Christmas single? Little Saint Nick
Which famous pop singer has been crowned the Queen of Christmas? Mariah Carey
According to the "Guinness Book of World Records", what is the bestselling Christmas song of all time? "White Christmas" by Bing Crosby, with an estimated 50 million copies sold
Which 1984 pop ballad ranked on the charts for the first time in 2017? "Last Christmas" by Wham!
How old was Brenda Lee when she recorded Christmas classic "Rockin' Around the Christmas Tree"? 13 years old
Puerto Rican singer José Feliciano sang which popular 1970 Christmas song? "Feliz Navidad"
Which well-known Christmas song was originally a Thanksgiving song? "Jingle Bells"
Which singer is known for her Christmas classic "Santa Baby"? Eartha Kitt
The Band Aid song "Do They Know It's Christmas?" sought to raise money for what issue? Famine in Ethiopia
How long did it take Mariah Carey to write her hit "All I Want For Christmas Is You"? 15 minutes
Which Christmas song has the most movie appearances? "Jingle Bells"
Which famous singer is known for the Christmas classic "This Christmas"? Donny Hathaway
Miscellaneous Christmas Trivia
Test your friends' and loved ones' holiday knowledge with this mixed-bag category of Christmas trivia questions.
In Japan, it has become a popular tradition to eat what American fast food on Christmas? KFC
Which brand was the first company to use Santa Claus in its advertising? Coca-Cola
What beloved Christmas drink is also referred to as "milk punch"? Eggnog
The tradition of putting up a Christmas tree originated in what country? Germany
Saint Nicholas, whom Santa Claus is based on, is from what country? Modern-day Turkey
Candy canes came from which country? Germany
If you gave all the gifts listed in "The Twelve Days of Christmas," how many would you give? 364
Which favorite Christmas tree decoration was once made of silver? Tinsel
During the Christmas season, which popular toy brand sells 28 sets every second? Lego
If you find yourself under the mistletoe with another person, what are you supposed to do? Kiss
What are two of the most popular Christmas tree toppers? A star and an angel
What is another name for a Christmas tree? A Yule tree
What are the names of Santa's nine reindeer? Dasher, Dancer, Prancer, Vixen, Comet, Cupid, Donner, Blitzen, and, of course, Rudolph
Based off a Dutch tradition, what two food items should be left for Santa Claus on Christmas Eve? Milk and cookies
Where was baby Jesus born? Bethlehem
What are the two other popular names for Santa Claus? Kris Kringle and Saint Nick
Christmas Movie Quotes Trivia
For the real movie buffs, these holiday trivia questions that focus on Christmas movie quotes are sure to be winners.
What lovable character said, "I planned out our whole day. First, we'll make snow angels for two hours, and then we'll go ice skating, and then we'll eat a whole roll of Toll House cookie dough as fast as we can, and then, to finish, we'll snuggle"? Buddy the Elf
What popular character said, "I never thought it was such a bad little tree. It's not bad at all, really. Maybe it just needs a little love"? Charlie Brown
What movie is known for the quote, "You'll shoot your eye out, kid!"? "A Christmas Story"
What book-turned-movie is known for this popular quote: "God bless us, every one!"? "A Christmas Carol"
Which character is known for saying, "Merry Christmas, ya filthy animal"? Kevin McCallister, in "Home Alone 2: Lost in New York"
The quote, "Just remember, the true spirit of Christmas lies in your heart," came from which popular animated Christmas movie? "The Polar Express"
"Oh, Christmas isn't just a day, it's a frame of mind" is from which treasured Christmas movie? "Miracle on 34th Street"
Young elf Judy says, "Seeing isn't believing. Believing is seeing," in what movie? "The Santa Clause"
"Every time a bell rings, an angel gets his wings" comes from which Christmas movie? "It's a Wonderful Life"
The quote, "What if Christmas, he thought, doesn't come from a store. What if Christmas . . . perhaps . . . means a little bit more," comes from what animated favorite? "How the Grinch Stole Christmas"
Which movie is known for the quote, "No one should be alone on Christmas." ? "How the Grinch Stole Christmas"
"The thing about trains…it doesn't matter where they're going. What matters is deciding to get on.", is from which Christmas movie? "The Polar Express"