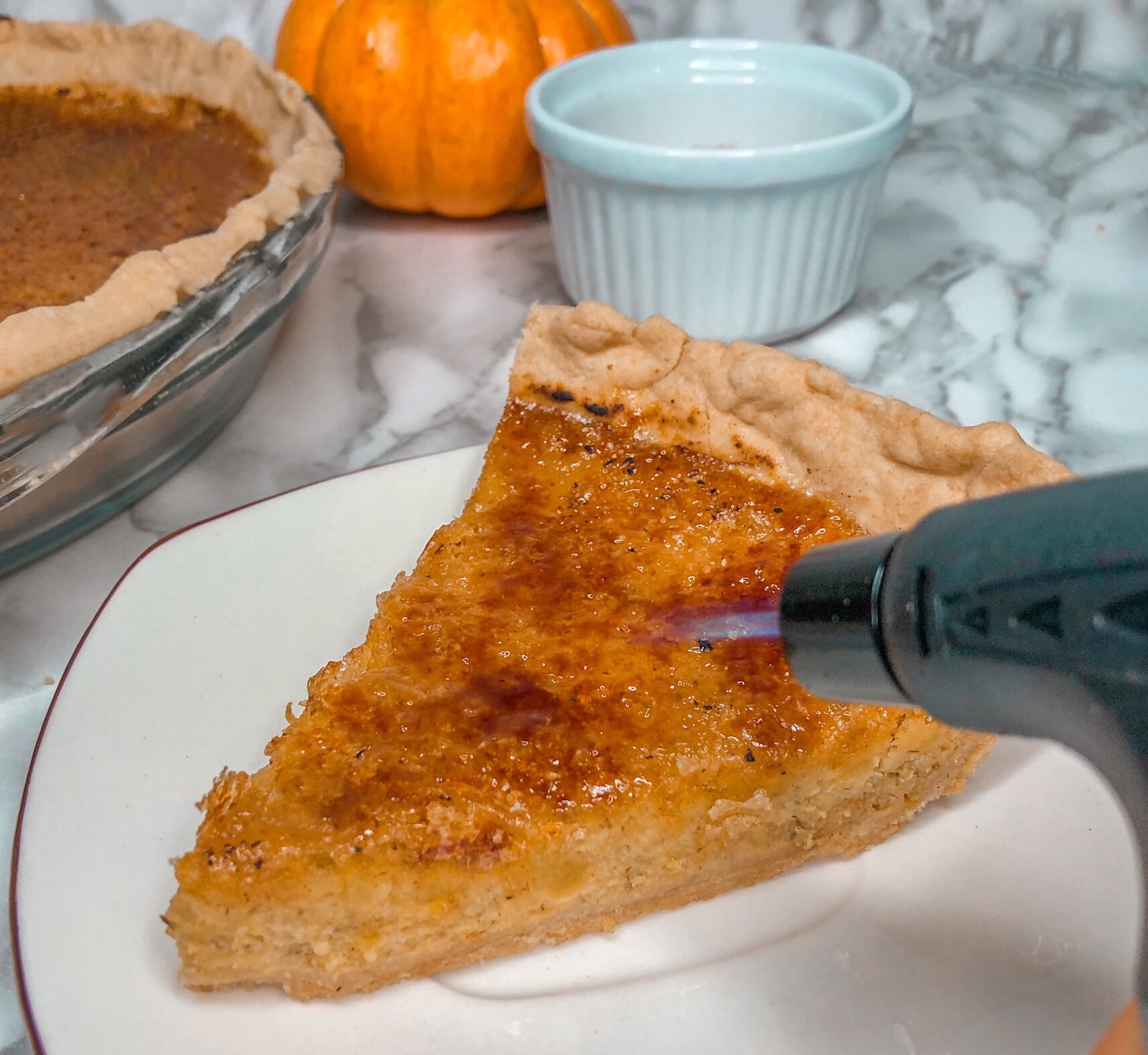 Just when you think pumpkin pie can't get any better, TikTok baker @belspies has done the impossible. She's reinvented the pumpkin pie into a five-star dessert by changing absolutely nothing to the traditional recipe — other than adding some sugar on top of the cooked pie and torching it a bit. It might seem like an unnecessary step, but giving a traditional pumpkin pie the crème brûlée treatment makes for a glassy, crackly surface that I didn't realize we, as a society, have been missing out on this whole time.
@belspies

Someone asked if I had any ✨fancy✨ pumpkin pies so here's another twist from last year's series! What do you wanna see this year?? #pie
If you're in a pinch, this crème brûlée method could be achieved on a store-bought pie, but I highly recommend trying @belspies' original pie because the filling, flavored with sweetened condensed milk and a homemade pumpkin pie spice blend, is absolutely divine. Best of all, it's relatively easy to make, as far as pies go. Finding the perfect Thanksgiving dessert can be a hassle, or overwhelming since there are so many delicious desserts to choose from. But thanks to the simplicity and next-level taste of this recipe, I will definitely be bringing a crème brûlée pumpkin pie to all of my Thanksgiving dinners this year. Keep scrolling for step-by-step instructions on how to make this deceptively fancy dessert.
Prepare your mixing ingredients.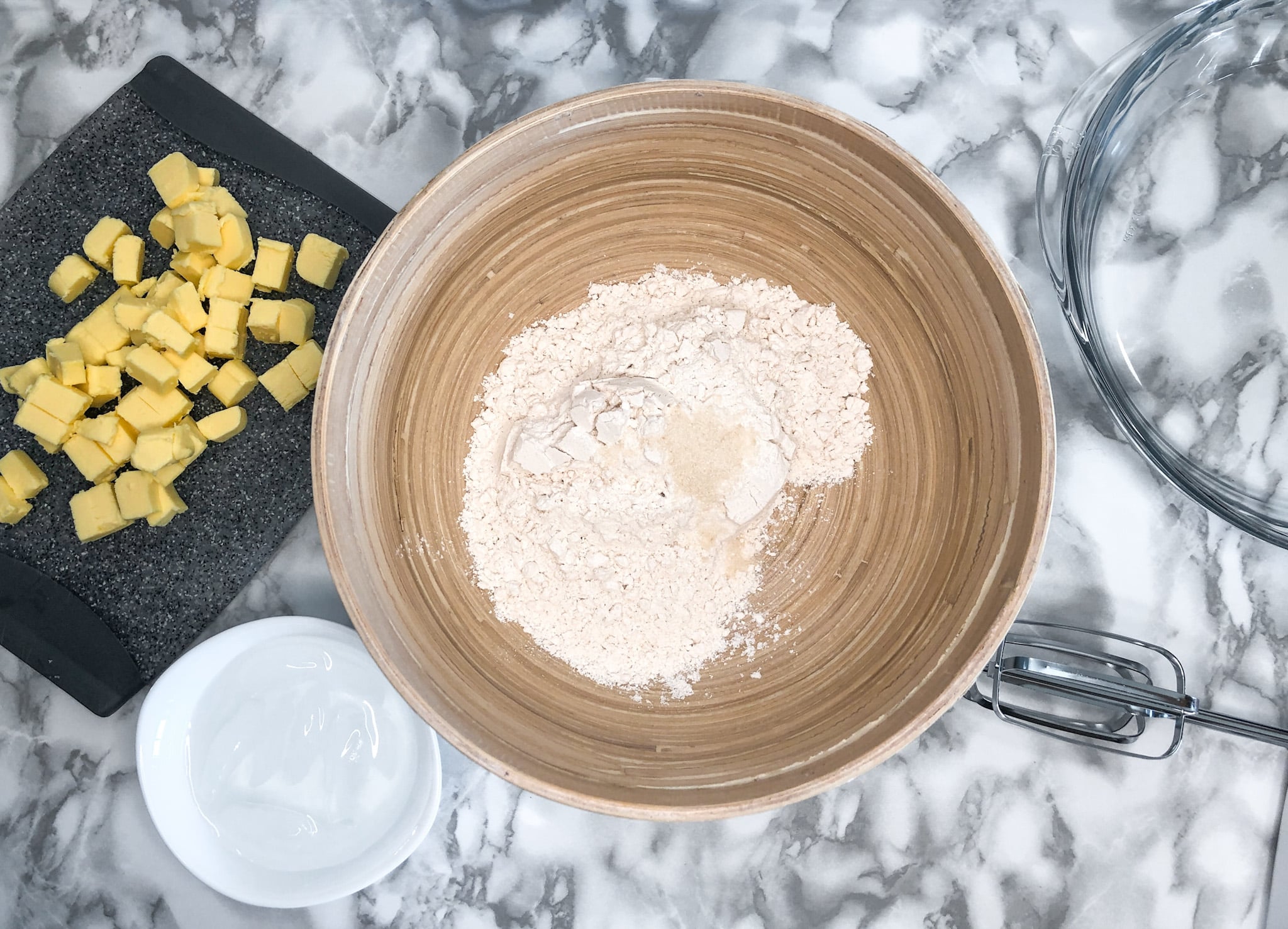 Combine flour, sugar, and butter.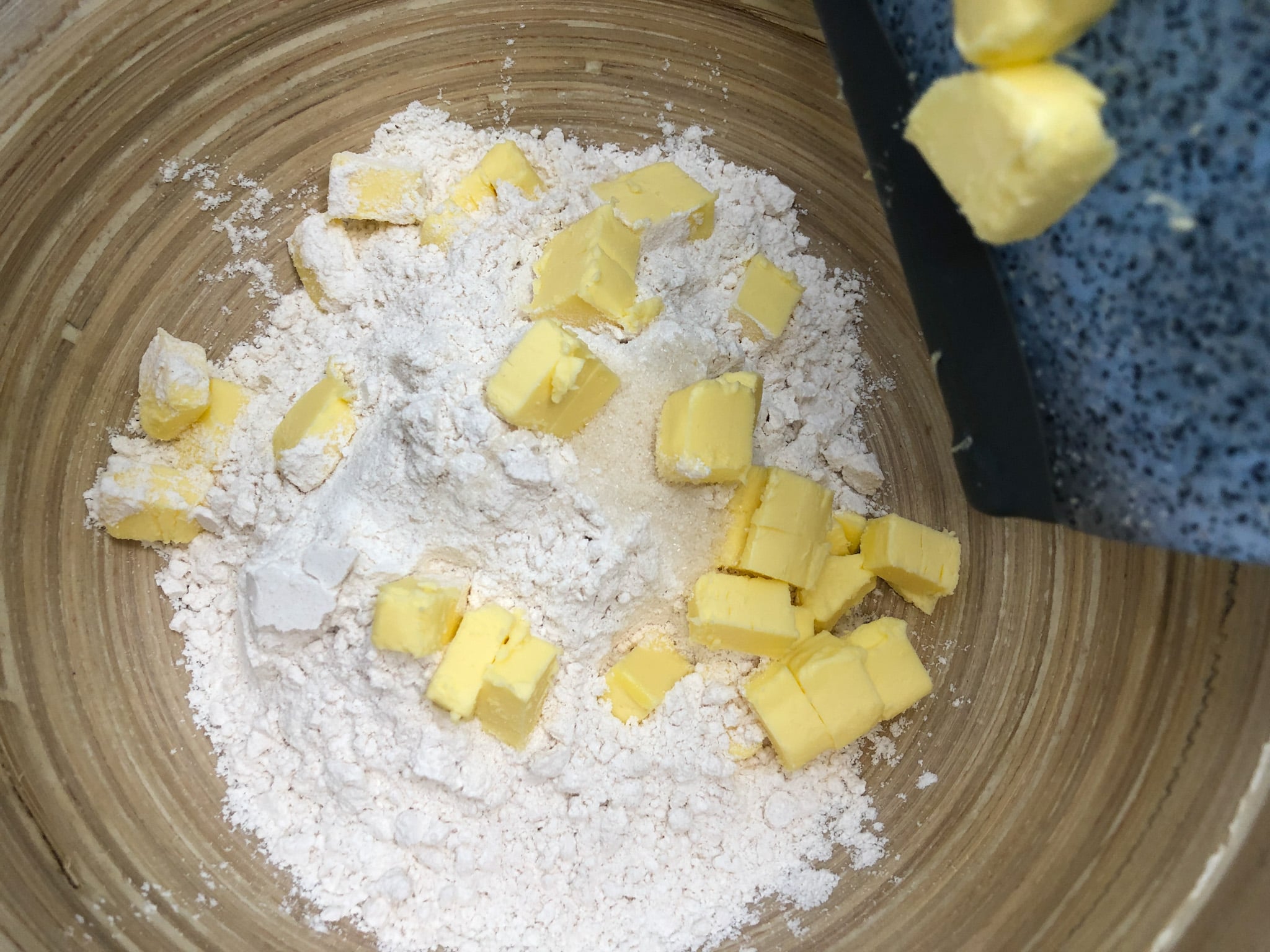 Mix flour, sugar, and butter.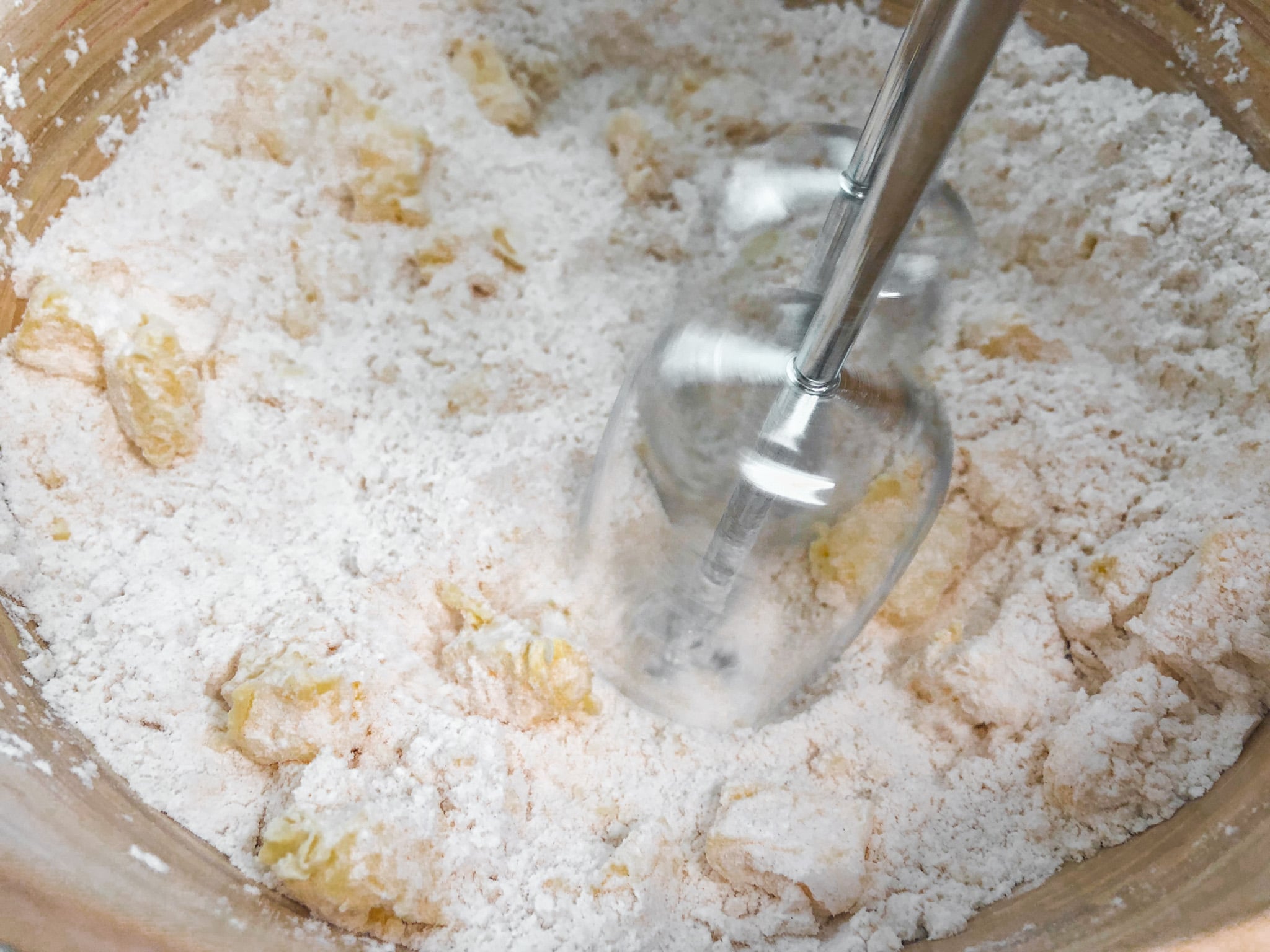 Add ice water and mix again.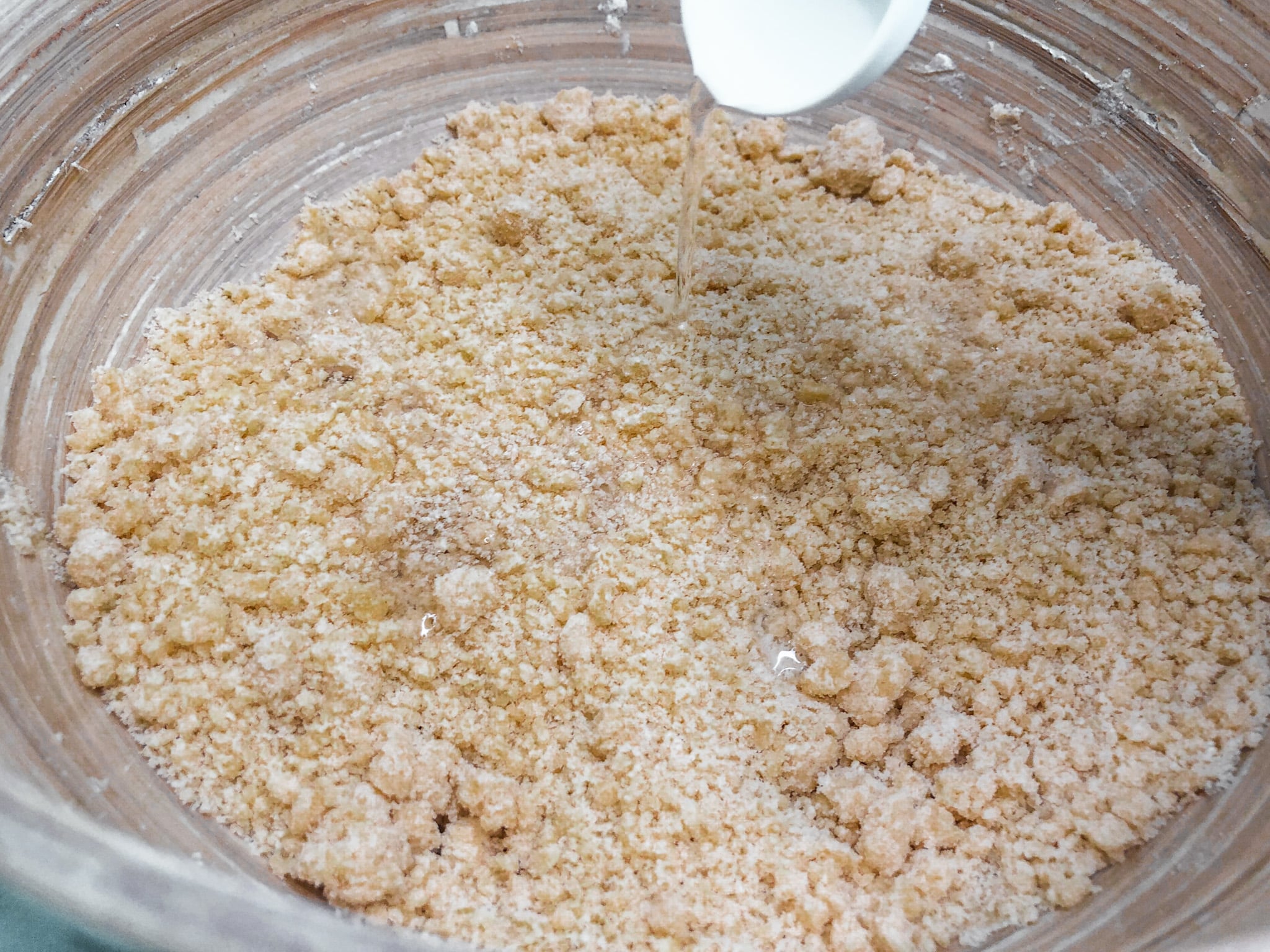 Combine until the dough is smooth and cohesive. Cover and place in the fridge.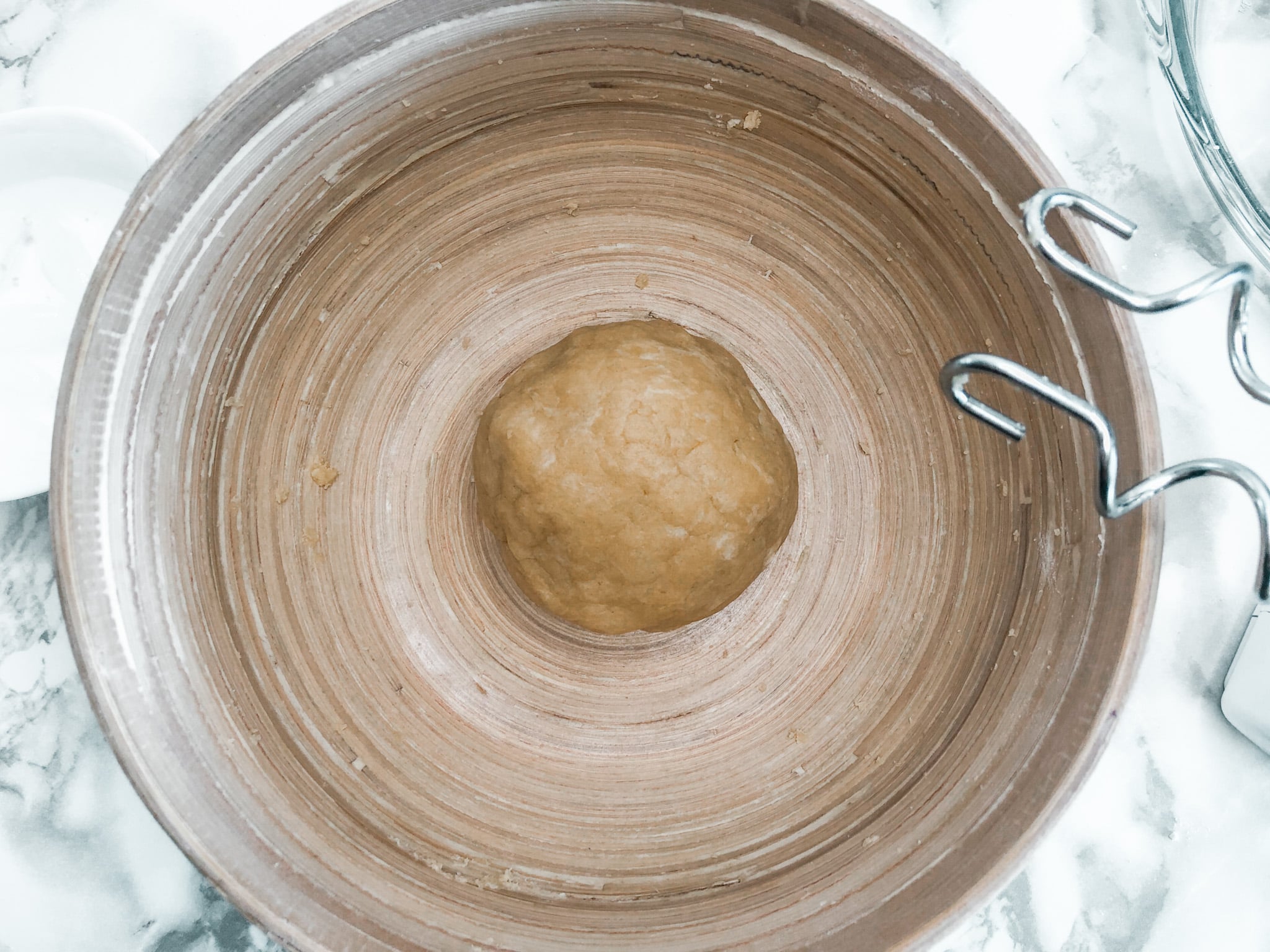 In a separate bowl, mix pumpkin puree, condensed milk, and eggs. Then, add spices.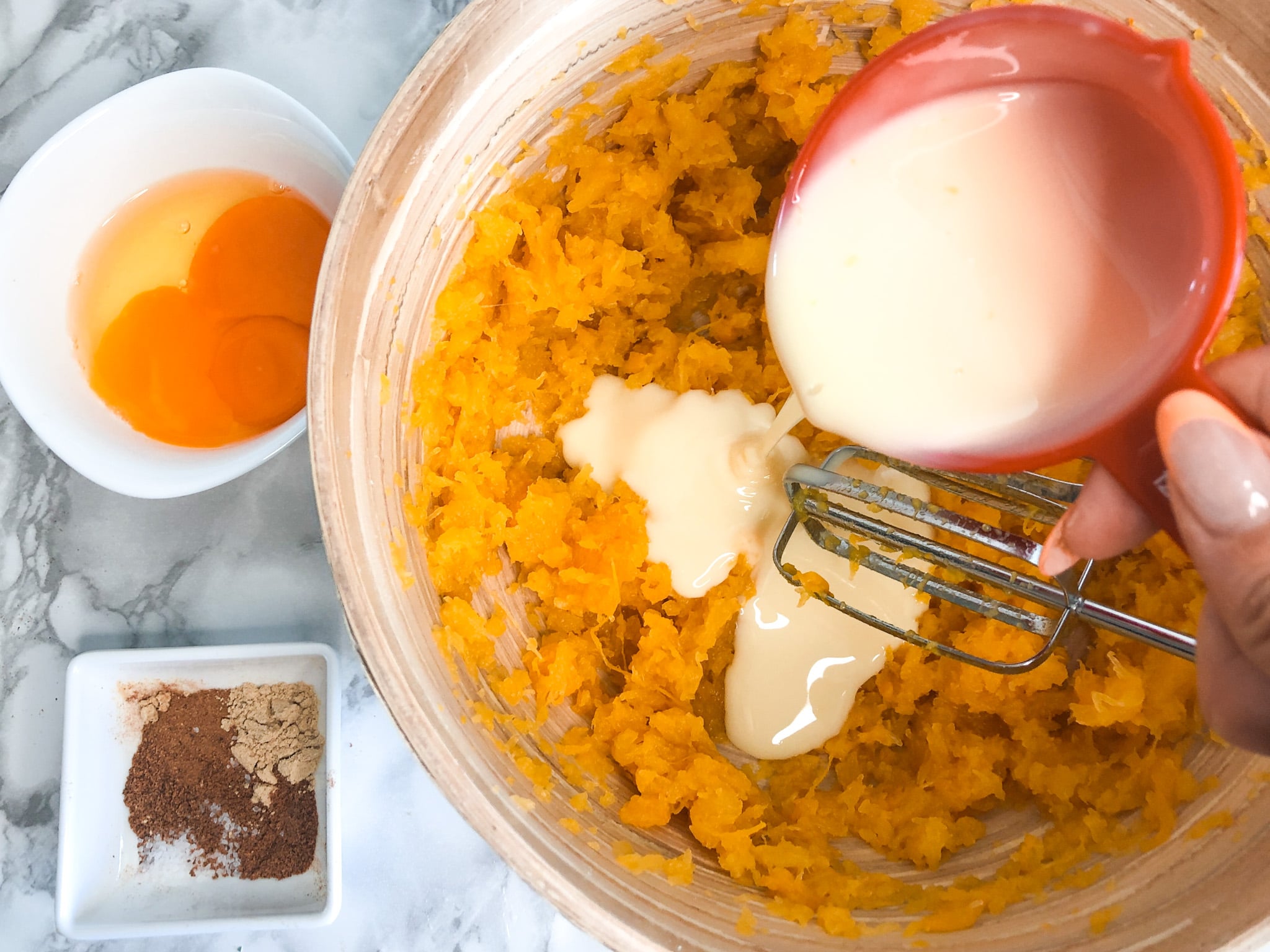 Whisk together.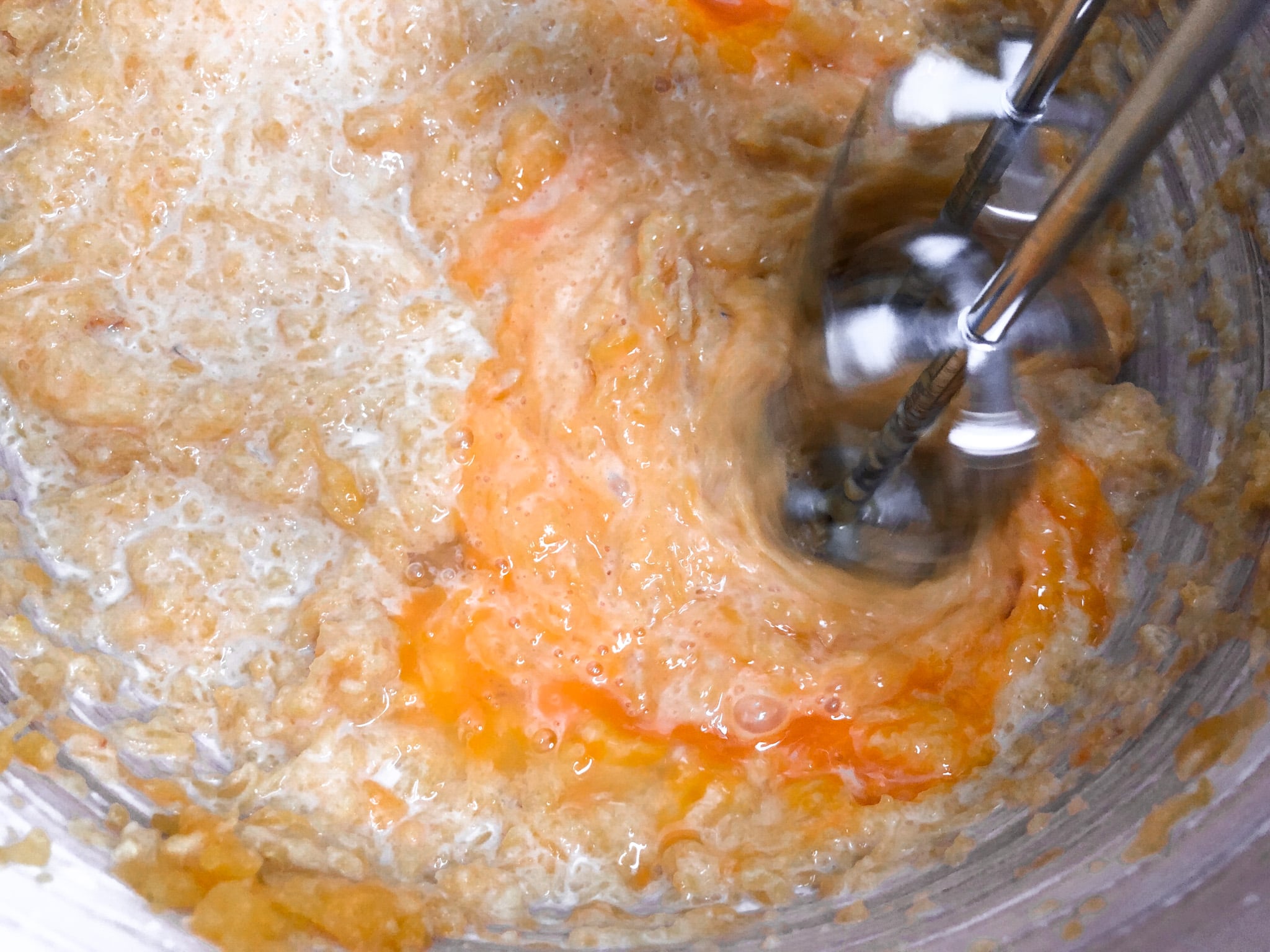 Take the dough out of the fridge and start rolling. Then add it to a pie plate, crimp the edges, and chill it in the freezer for a few minutes.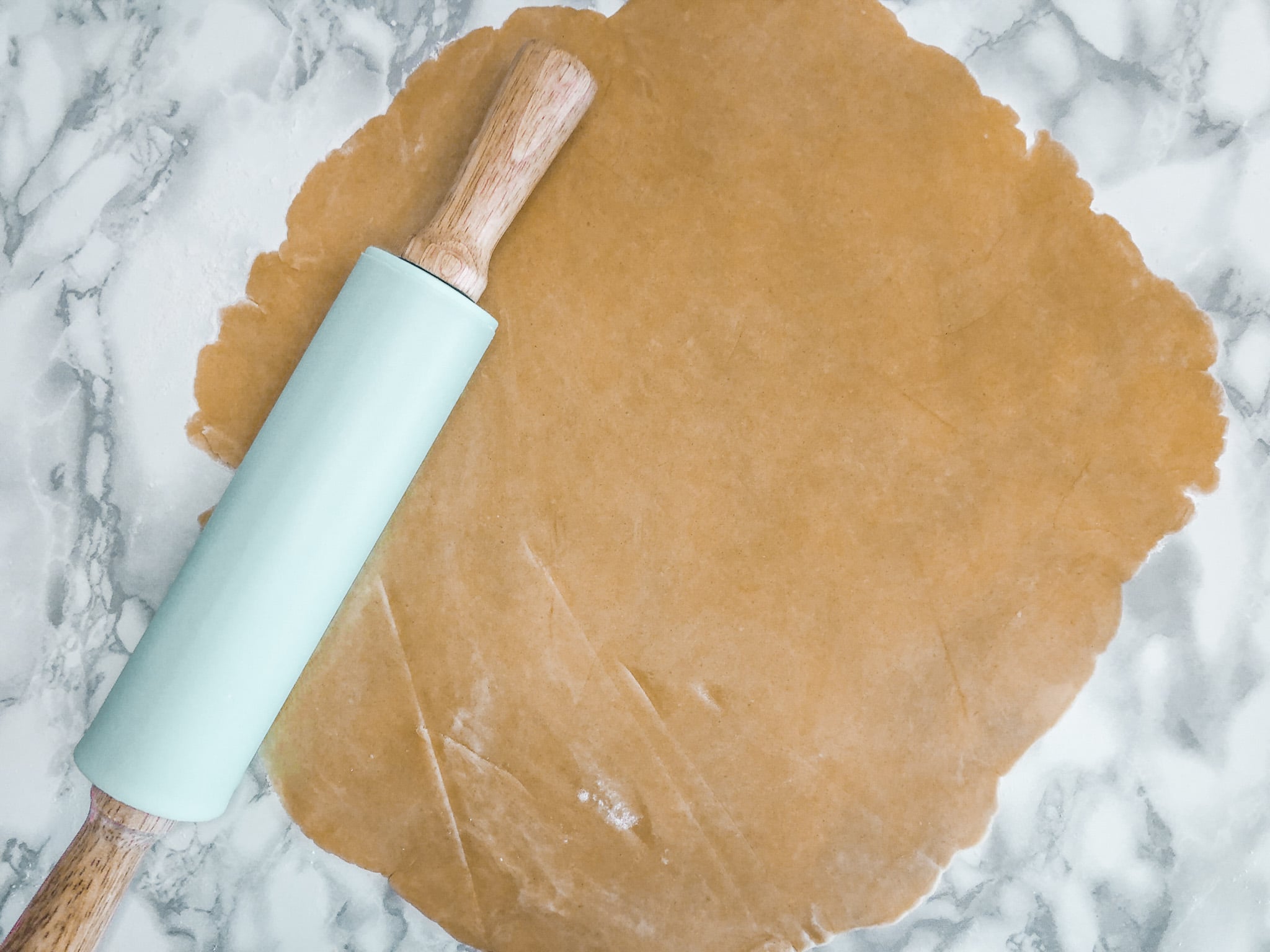 Pour pumpkin filling into chilled pie shell, then place in oven.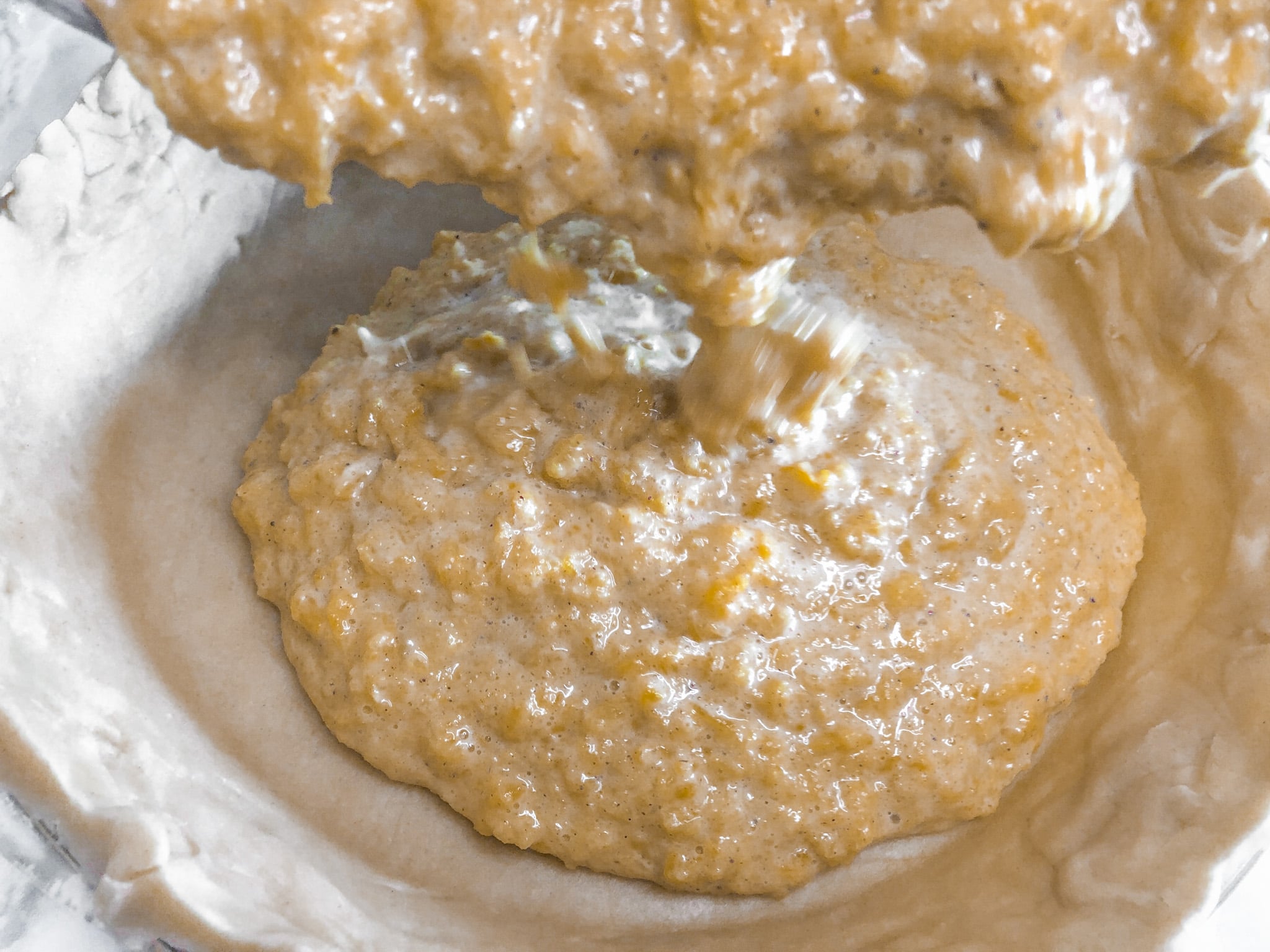 Sprinkle granulated sugar over the pie after it's fully cooked and cooled from the oven.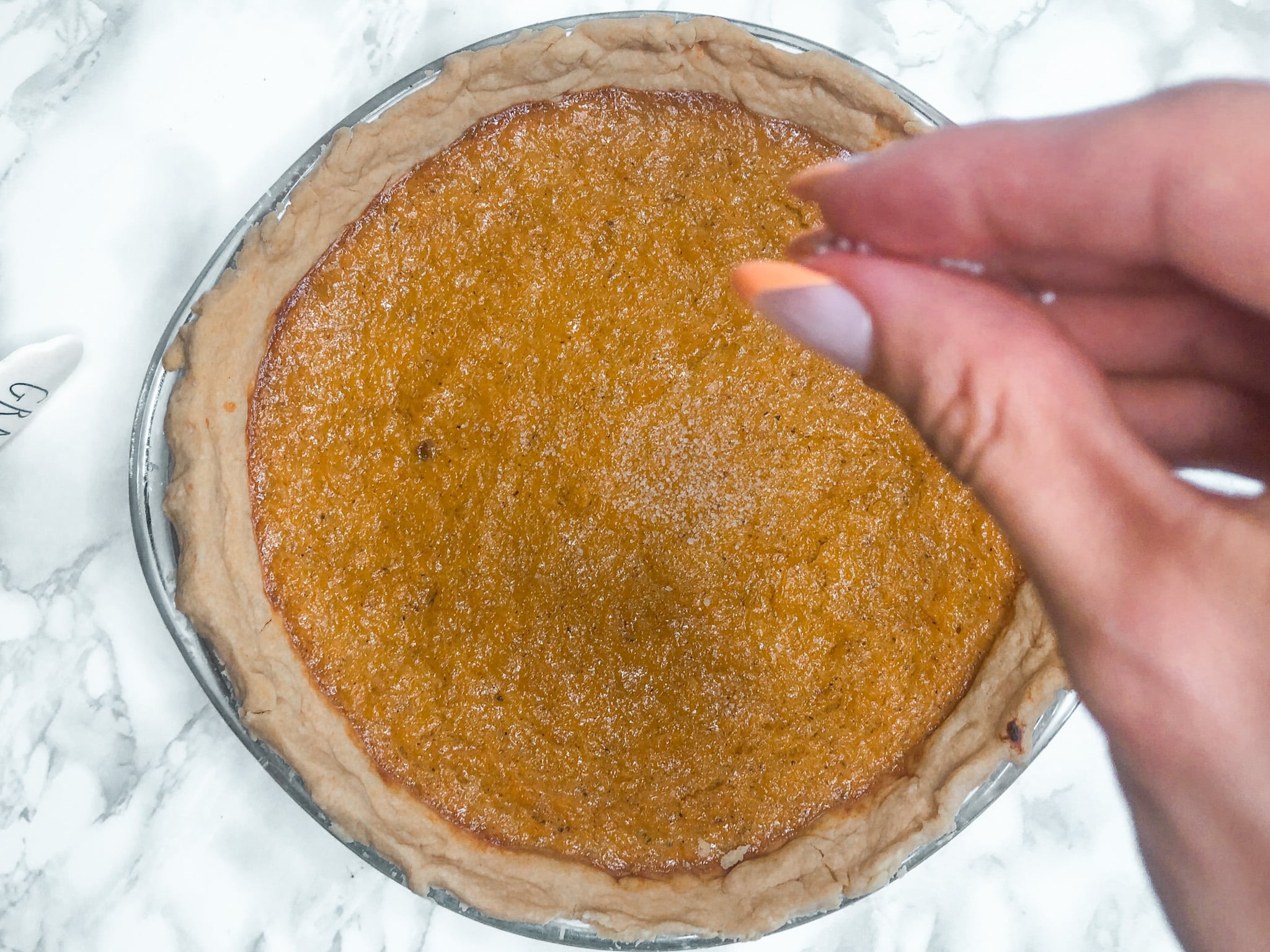 Then caramelize the brown sugar with a blow torch.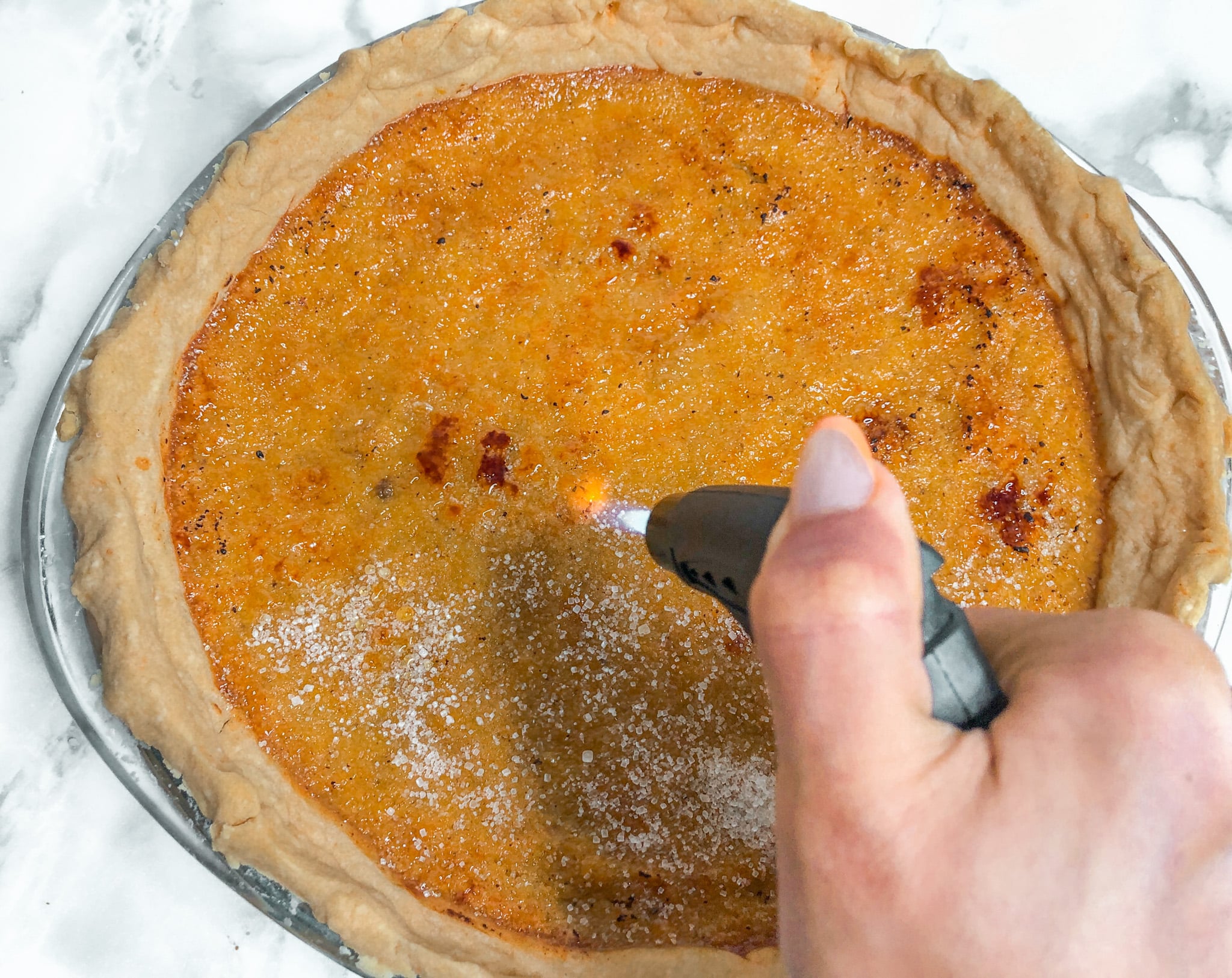 Repeat the sugaring again.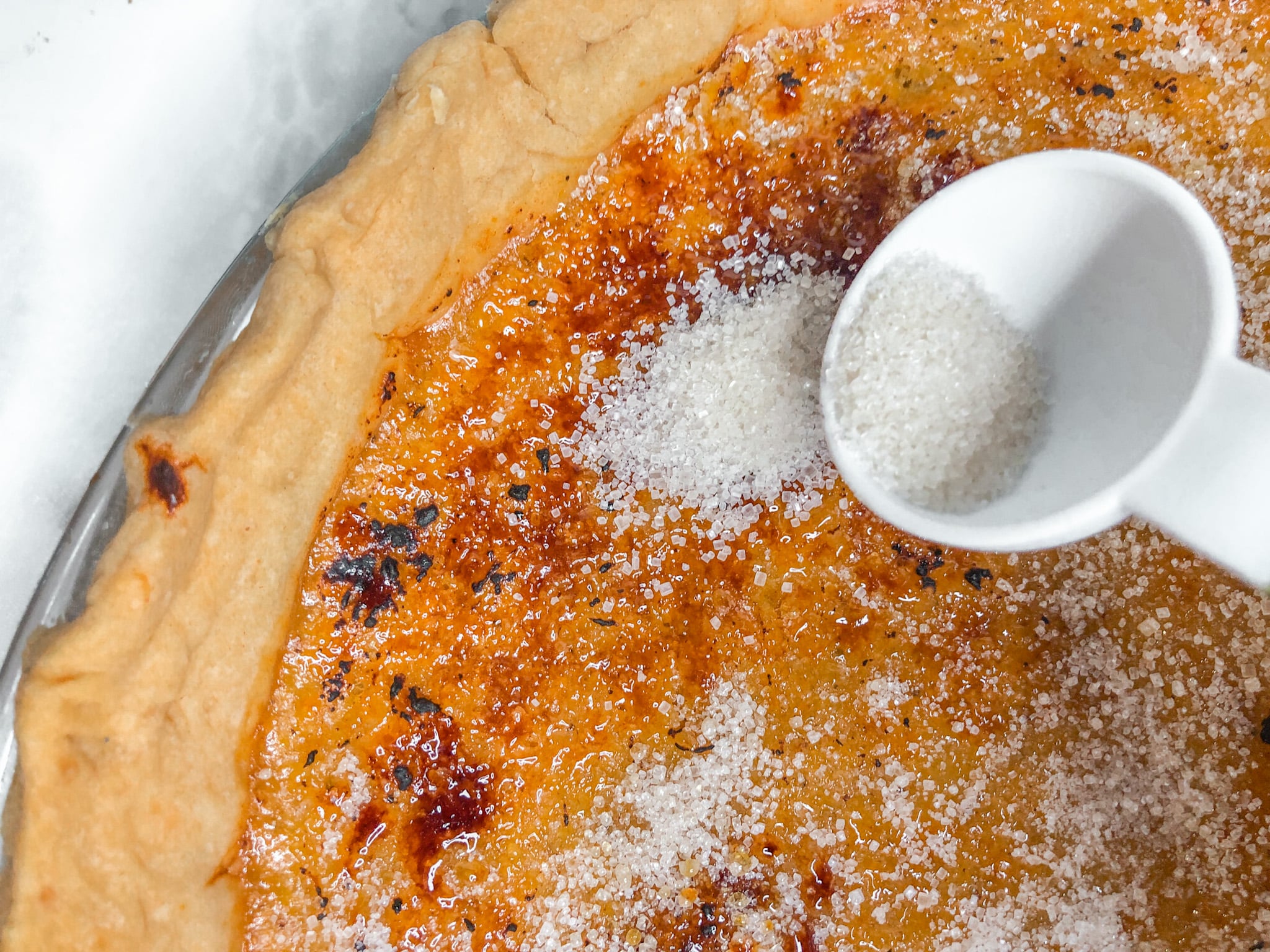 Then, blow torch the pie again.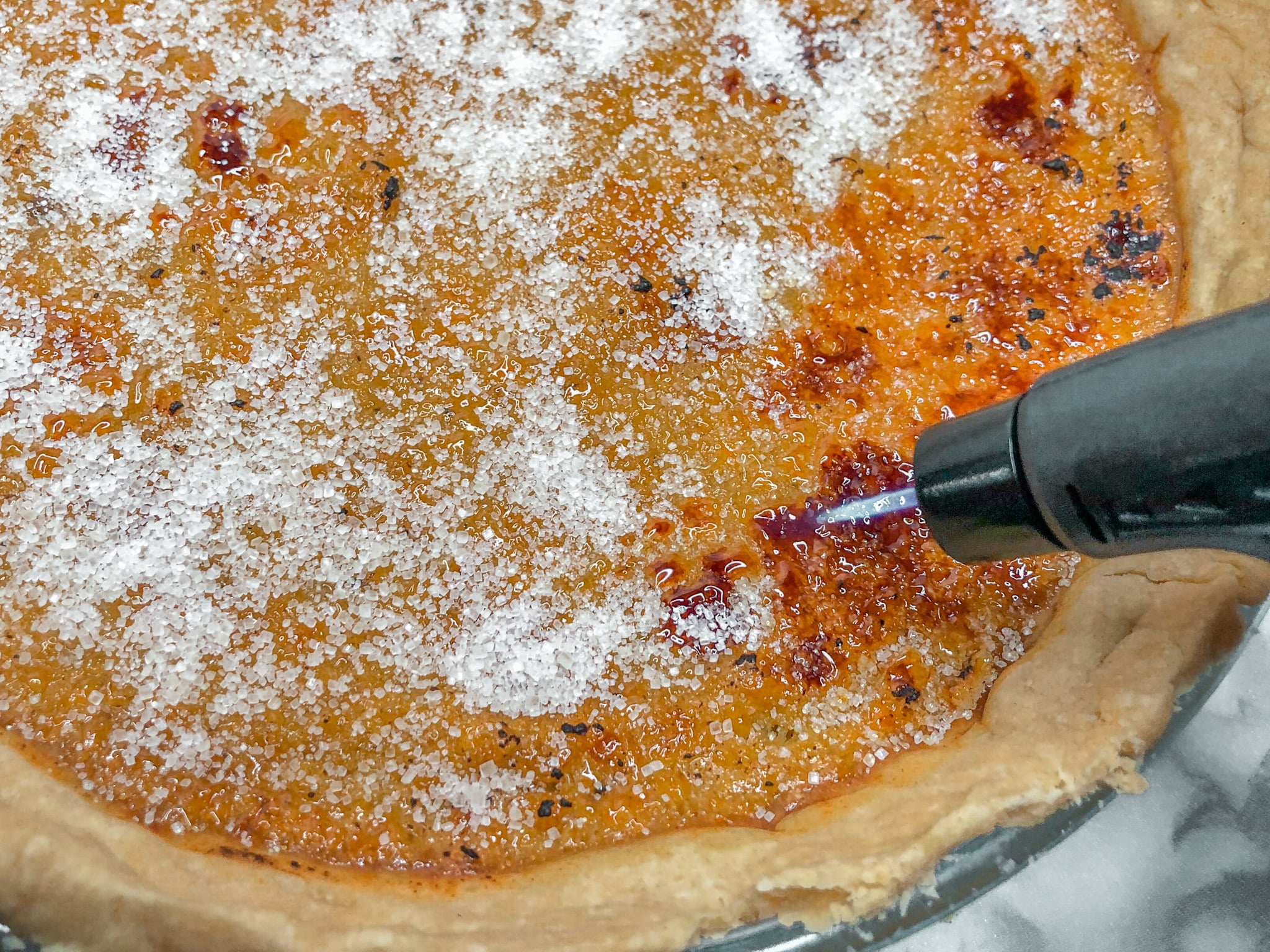 Add sugar to the top of the pie for the third time.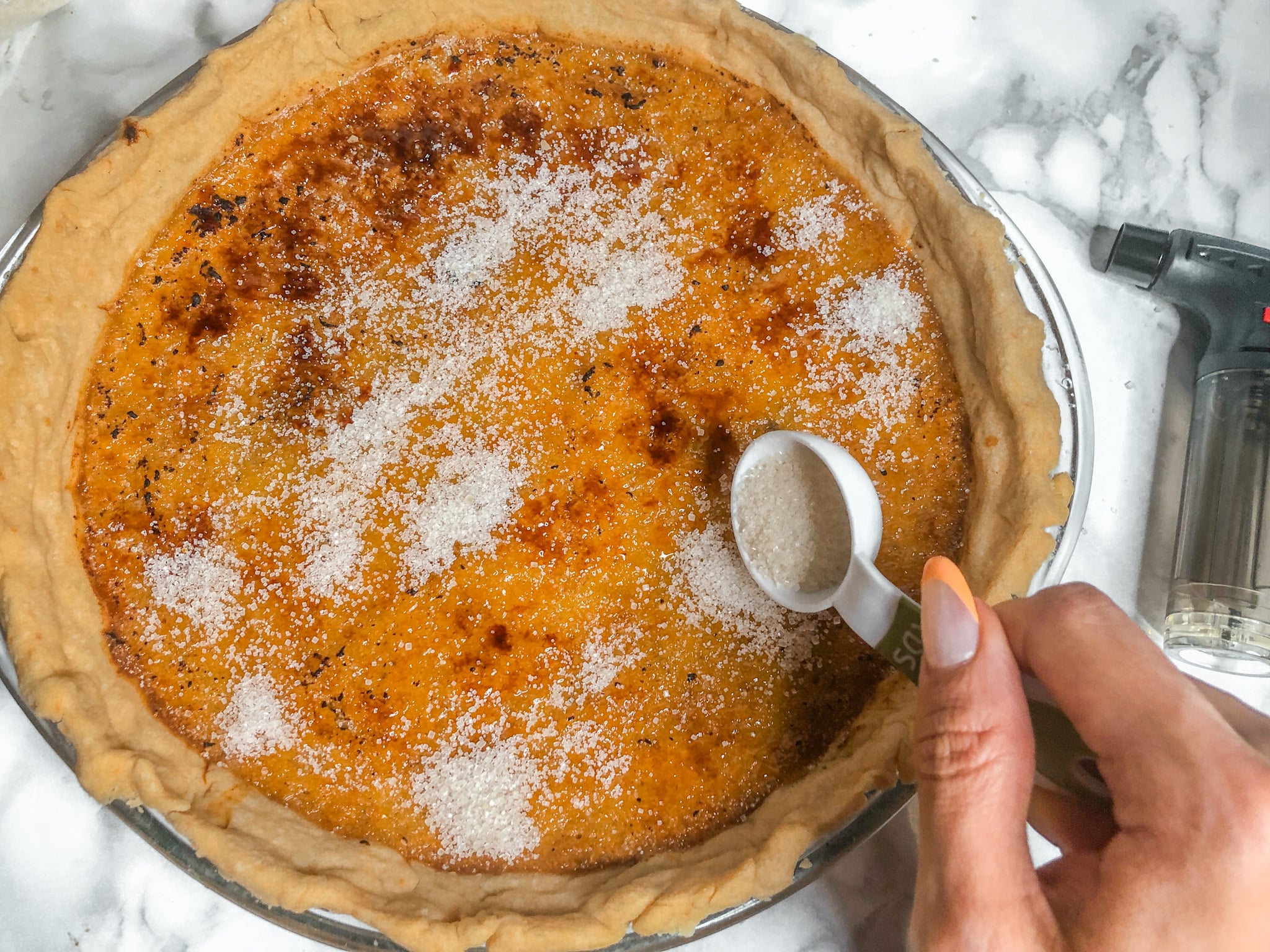 Use the blow torch once more to caramelize the last layer of sugar.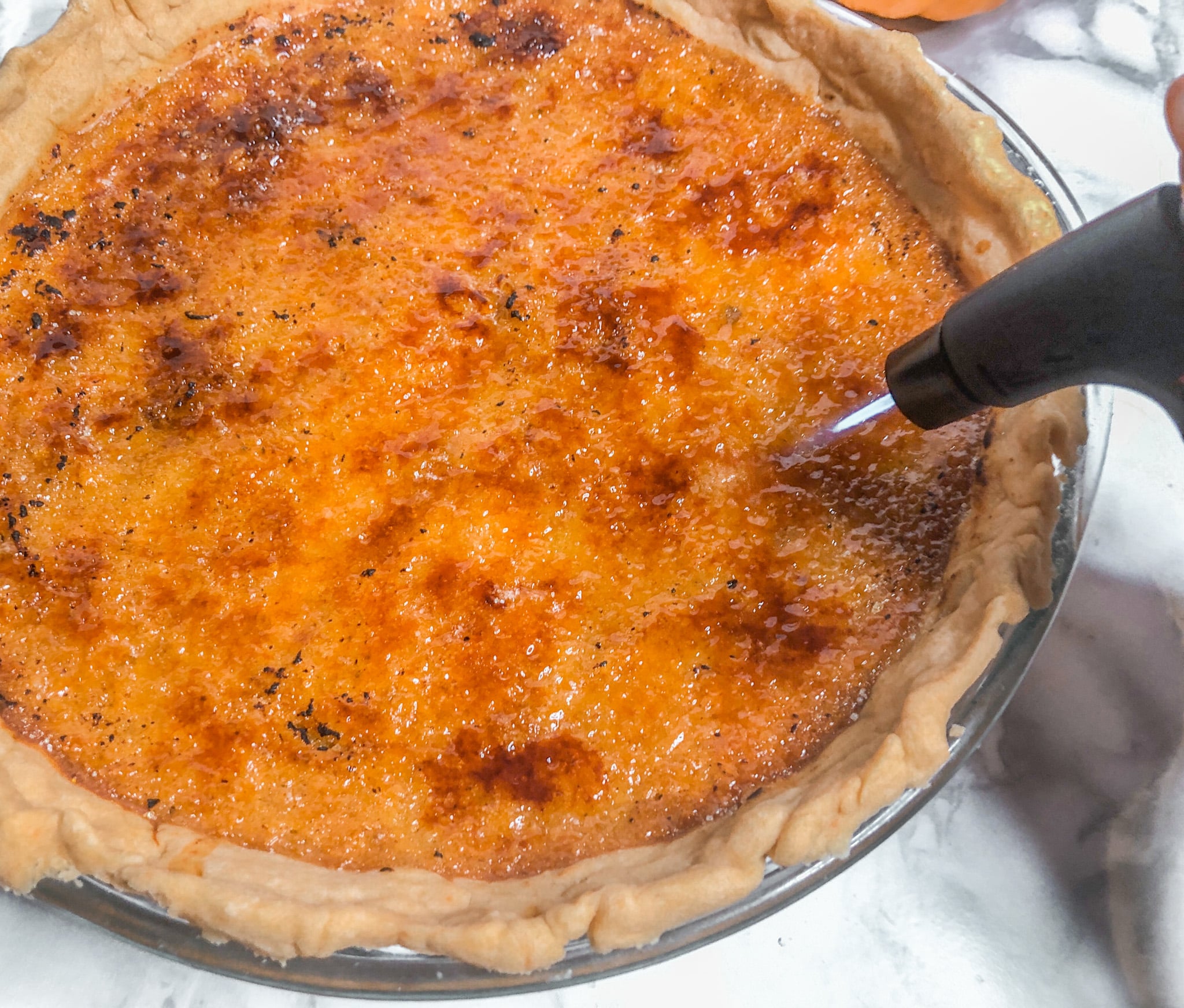 And there you have it: crème brûlée pumpkin pie.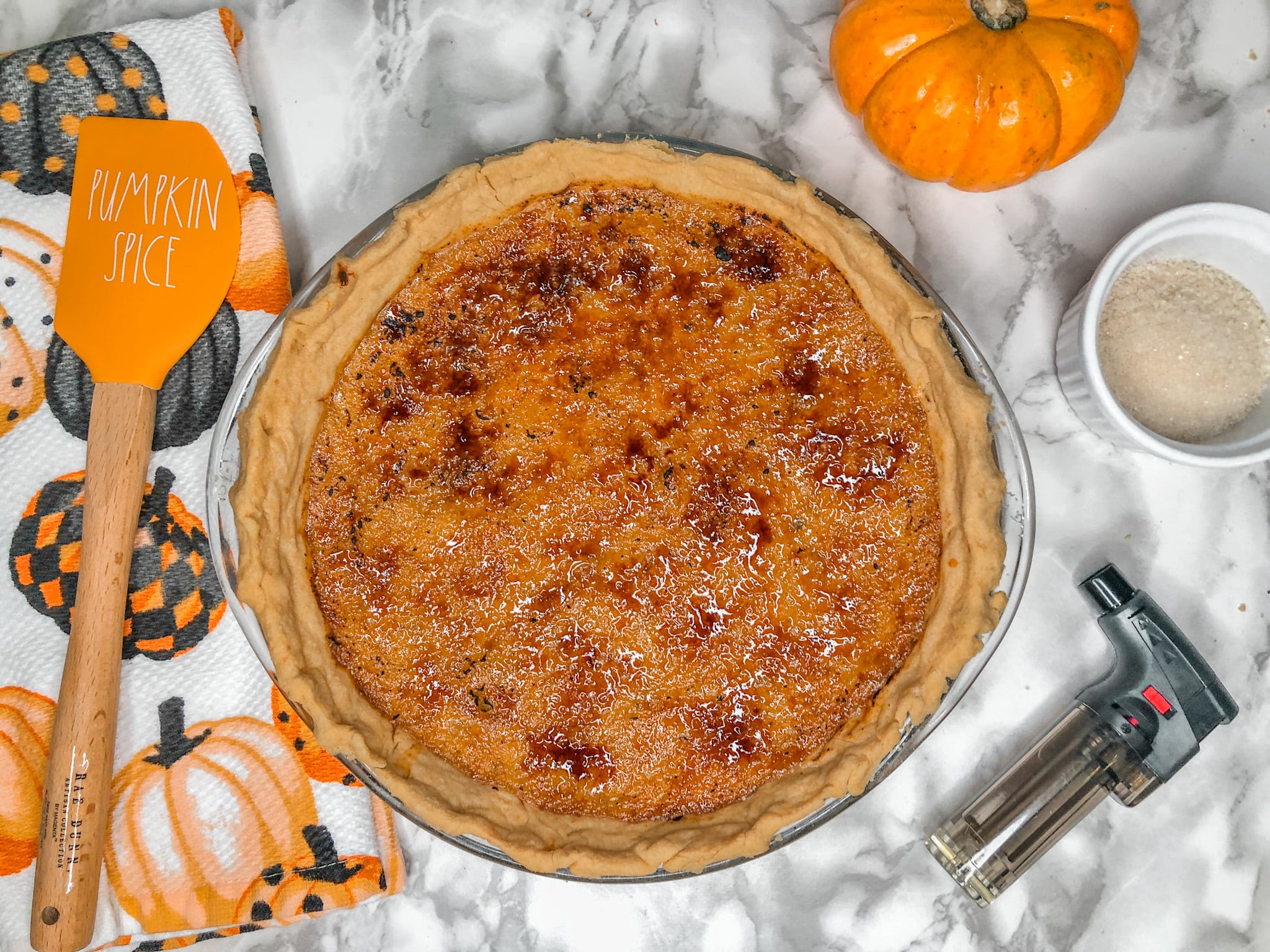 Slice into your pumpkin pie and enjoy.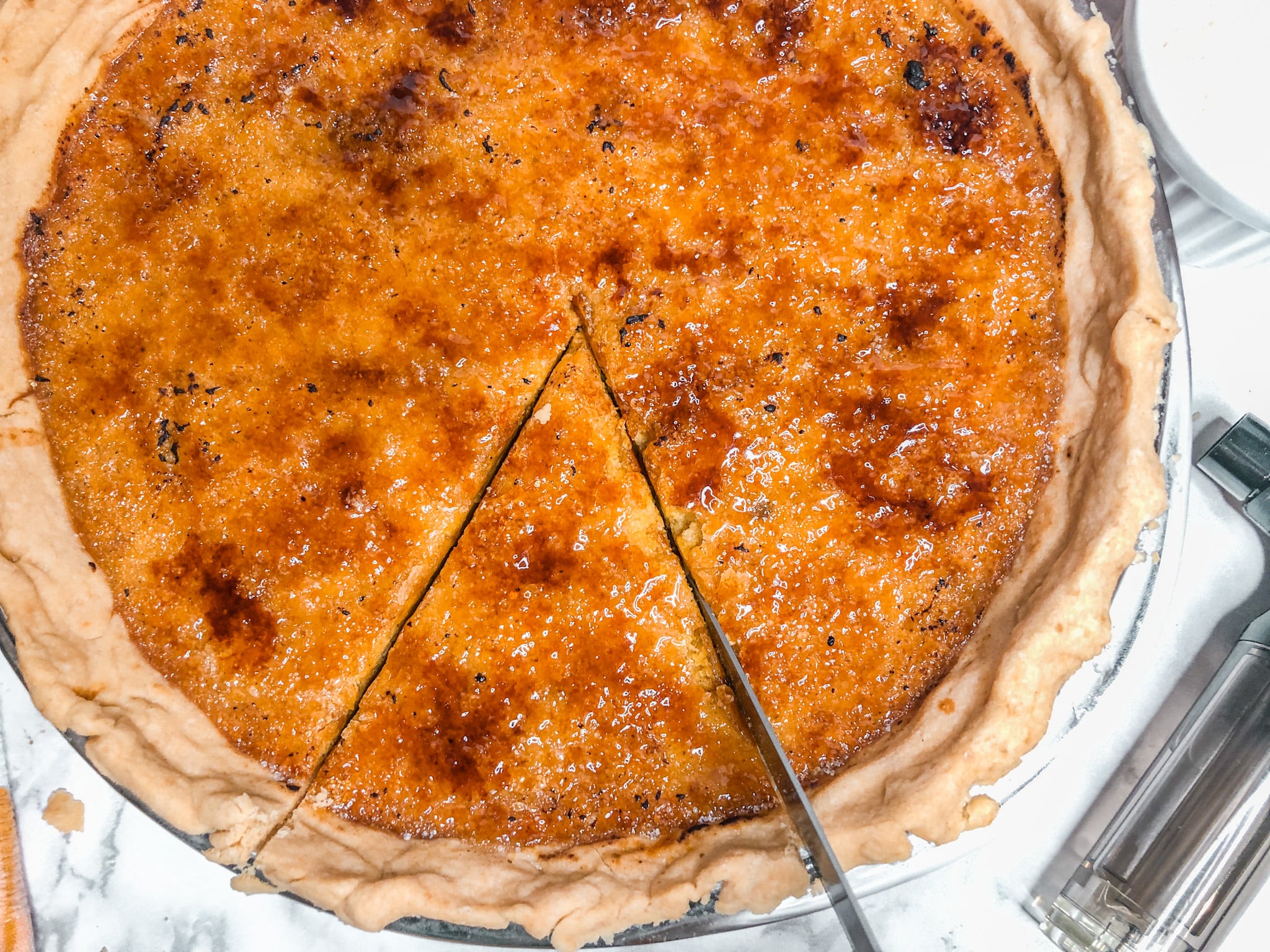 Feel free to glaze your individual slices too!
Ingredients
For the dough
1 ¾ cups flour
½ tablespoon granulated sugar
½ cup cold butter, cubed
3-4 tablespoons ice water
Pumpkin pie filling
1 ¾ cup pumpkin puree (not pumpkin pie filling)
2 eggs
½ cup condensed milk
1 teaspoon ground cinnamon
1 teaspoon ground nutmeg
½ teaspoon ground ginger
½ teaspoon salt
For the brûlée top
¼ cup granulated sugar
Directions
In a large bowl, combine the flour, sugar, and butter just until the ingredients resemble clumpy sand. Add two tablespoons of ice water, then mix together until the mixture becomes a smooth, cohesive dough.
Cover the dough in plastic wrap and place it in the fridge to chill.
In a separate large bowl, whisk together pumpkin puree, eggs, and condensed milk, then add pumpkin pie spices.
Preheat oven to 425°F.
Remove the dough from the fridge and roll it out onto a well-floured surface.
Place the dough into a pie plate and crimp the edges. Place prepared pie crust in the freezer for a few minutes to chill.
Once the dough has chilled again, pour the pumpkin filling into the pie shell, then place in the oven for 15 minutes. Reduce the heat to 350°F and continue baking for 35 minutes.
When the pie is fully cooked through, remove it from the oven and allow to cool for a few minutes.
Sprinkle a generous amount of granulated sugar all over its surface. Using a blow torch, carefully brown the sugar until it has caramelized.
Repeat the sugar and blow torch method two or three more times, until the entire surface is glassy and deep caramel in color from edge to edge.
Once the surface of the pie is fully caramelized, slice in and enjoy!
Information
Category

Desserts, Pies/Tarts

Yield

8 servings

Prep Time

35 minutes

Cook Time

50 minutes

Total Time

1 hour, 24 minutes, 59 seconds
Image Source: POPSUGAR Photography / Ashley Ortiz