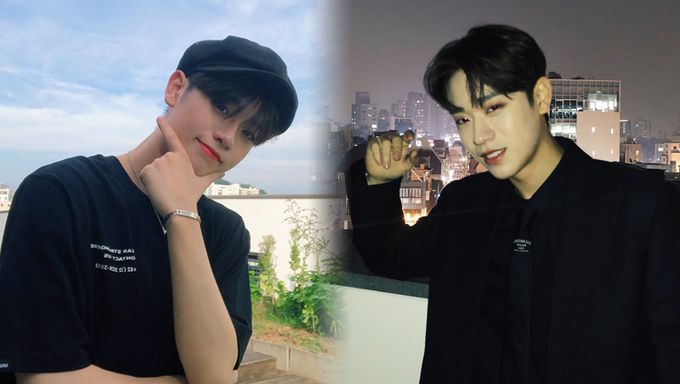 Welcome to the twenty-sixth article of Kpopmap's series introducing the must-follow idols posting boyfriend material pictures. 
VICTON's ByungChan, SF9's Yoo TaeYang, ATEEZ's SeongHwa, NCT's DoYoung, THE BOYZ's Q, MONSTA X's HyungWon, WonHo, CIX's SeungHun, AB6IX's Jeon Woong, WEi's Kim JunSeo, MIRAE's Son DongPyo, ONEUS's KeonHee, TXT's YeonJun, ASTRO's MoonBin, 2PM's JunHo, Stray Kids's Lee Know, ENHYPEN's SungHoon, P1HARMONY's InTak, Golden Child's Bong JaeHyun, CRAVITY's HyeongJun, TREASURE's JiHoon, NU'EST's MinHyun, UP10TION's Kim WooSeok, TO1's ChiHoon, and DRIPPIN's Lee Hyeop were previously covered on the series. Readers wanted to see EPEX's Keum in our following article (poll), so here it is!
EPEX's Keum is for sure one idol who is well-known for his talents in making anyone love his pictures. Even when he was a trainee, there were already talks about his boyfriend material pictures. After his debut, he continues to bring constant happiness to fans with his posts showing his day and night charms and bright energy.
Today we are talking about a boy who is cute with an angel smile.
But don't get tricked by this soft-looking boy! As he also posts pictures full of charisma, ready to steal hearts at any moment. 
Indeed, Keum has day & night duality charms on his pictures. The clothing and hairstyle aside, his pose and eyes have a total change of vibes. 
In his numerous selfies, he gives that soft and bright energy many love. Also, you can tell that he looks amazing in any clothes and colored contact lenses, which he likes to use. 
Some of his selfies are treasures too. Keum knows how to take stunning selfies getting fans to go out of phone memory. 
His favorite pose seems to be the V because he has a few of these. 
Just like his V, his pictures are full of bright energy, filling up the battery of fans with his smile and winks. He knows how to attract fans' attention! 
He enjoys taking pictures and sharing his playful vibe with his posts. You can't help but smile.
Keum posts the boyfriend material pictures that many are looking for. Have a look below. You would also want to take these pictures for your boyfriend, right?! 
Or maybe receive it by messages? That would be the best present! 
EPEX's latest comeback was with their 2nd EP "Bipolar Pt.2 Prelude of Love" and title track 'Do 4 Me' last October. You can also check their cover of BTS's 'Boy In Luv' here. 
If you are new to Keum, you can check one of his fan cam for 'Do 4 Me' here. He was also acting in the popular web drama "Best Mistake 3" that ended recently.
If you are not yet following Keum, it is time to do so. You can follow him on EPEX's Twitter (@by_EPEX) and EPEX's Instagram (@epex.official).
Kpopmap is listening to readers' opinions. Let us know yours by answering the poll: 
Who would you like to see in our next "Boyfriend Material" article?
Mar 04, 2022 ~ Mar 08, 2022 (KST)
※You can vote multiple times without sign in.
Important notice: the vote is only deciding who will be covered first (in the next article of the series). Everyone on that list will be covered in the series.
You can also suggest idols who post a lot of boyfriend material pictures in the comments (only idols who often posted in the past year). We have included some fans' suggestions in the line-up already. For now, we are only covering one member for one group. Soon, we will start the second line-up (a second member in groups already covered) composed of ASTRO's Rocky, MIRAE's Khael, Golden Child's TAG, Stray Kids' HyunJin, and more (as you have suggested to us in the comments).
Note: the photos used in this series were posted after April 2021.
Don't forget to check out all previous articles of the boyfriend material series, you can find them directly from this collective list:
You can check last pick below: