Entertaiment
Girl Crush: OH MY GIRL's Mimi Makes Us Say OMG At Her Multitude Of Talents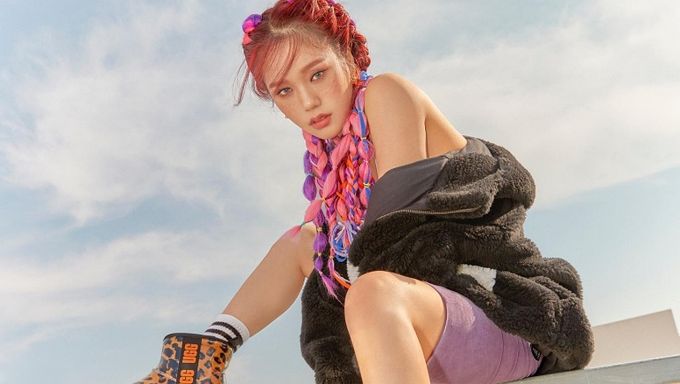 Welcome to the twenty-fifth article of Kpopmap's weekly series "Girl Crush"!
This series will get to know some of the female idols who are girl crush material.
A 'girl crush' is defined as a woman or girl who is the object of one's admiration. In other words, one of the female K-Pop idols that fans wish was their best friend or girlfriend. This can be based on their style, personality, overall vibe, etc.
BLACKPINK's Lisa opened the series for us followed by MAMAMOO's HwaSa, TWICE's JiHyo, ITZY's RyuJin, Red Velvet's SeulGi, Jeon SoMi, STAYC's SuMin, LOONA's Yves, ChungHa, former Lovelyz member MiJoo, (G)I-DLE's SoYeon, HyunA, Jessi, EVERGLOW's Mia, EXID's Hani, IVE's YuJin, CL, IU, LeeHi, ITZY's YeJi, MAMAMOO's MoonByul, TWICE's JeongYeon, Lee ChaeYeon, and LOONA's Chuu.
Readers voted for OH MY GIRL's Mimi in our weekly poll (at the end of the article) to be featured this week.
Let's get to know our girl crush, Mimi!
Mimi is famous as a member of the girl group OH MY GIRL that will make you fall for their charms with each of their performances that you watch.
Mimi has quite the stage presence herself. She has powerful charisma when she raps and especially when she dances. Check out this performance of 'Checkmate' with her fellow member YooA. Mimi absolutely kills it on stage.
This fancam of Mimi performing OH MY GIRL's hit song 'Nonstop' will make you fall for her even more.
Mimi also writes her own raps making her multi-talented both behind-the-scenes and on the stage. Many of the OH MY GIRL raps were written by her and she truly holds her own as the only rapper in the group. 
However, some people may not know that she is also a more than capable vocal. She sang a song for the OST of "School 2021" called 'Can't help loving you' filled with melodic sentiment.
In case you can't get enough of Mimi's charms onstage, don't worry because she has you covered. Mimi is also a YouTuber and has her own channel where she films mukbangs, does dance covers, and also covers songs. 
One of the refreshing things about her mukbang is that she sometimes does them in vlog-style like this one. She can also make anything look delicious like a true mukbang queen.
We also need to take a moment for her visuals. She is stunning with fierce beauty and as quite the fashionista.
What do you think? Do you have a girl crush on Mimi?
Who would you like to see featured in the girl crush series? Leave a comment down below.
Who would you like to see in the next "Girl Crush" article?
~ Feb 27, 2022 (KST)
※You can vote multiple times without sign in.
Girls' Generation's SeoHyun
Important notice: the vote only decides who will be featured in the next article. Everyone in the poll will be featured in the series eventually. Suggestions will also be gradually added each week.
Don't forget to check out all previous articles of the Girl Crush series, you can find them directly from this collective list:
You can check last week's feature below:
Source link