C-Drama
Hello, the Sharpshooter – Hu Yitian, Xing Fei
Hello, the Sharpshooter is a contemporary urban youth drama, directed by Liu Yizhi, starring Hu Yitian, Xing Fei, Ma Sichao, and Luo Qiuyun, co-starring Niu Chao, Lu Qi, Zheng Yiming, and Zhu Zijie, Jia Qing, Wang Dong, and Shi Mingze, with Sha Baoliang in a special appearance.
The drama is adapted from the popular novel of the same title written by Lianmu Chuguang, is about the story of Shen Qingyuan, the captain of the shooting team, who meets Tang Xin, a trainee reporter in a competition, and this "old love couple" who meet each other again in the mist of suspicion of their past love.
Details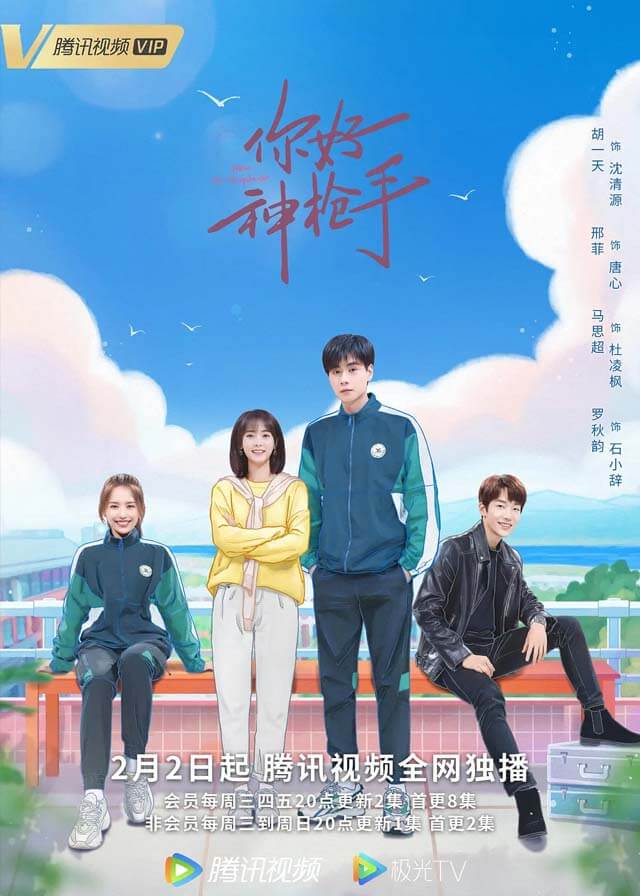 Cast

Ma Sichao as Du Lingfeng

Luo Qiuyun as Shi Xiaoci

Niu Chao as Jiang Yitian

Lu Qi as Yang Zhou

Zheng Yiming as Chen Hai

Jackey Zhu as Tang Liqi
Synopsis
At the National Games, Tang Xin, a trainee reporter for a TV sports channel, is ordered to interview the champion of the 50m pistol slow-fire event. She finds that the winner is not the veteran Du Lingfeng, whom everyone expected, but the "shooting gallery tutor" Shen Qingyuan, whom she secret crush on four years ago.
The indifferent attitude of Shen Qingyuan in the interview makes Tang Xin suffer a great blow. She even stutters in the interview, and her career is nearly ended.
Tang Xin approaches Shen Qingyuan in the name of tracking reports and producing programs, trying to solve the problem at its root.
In the provincial shooting team, she meets Du Lingfeng, a former pistol slow fire champion who is not willing to lose, Shi Xiaoci, a women's air rifle competitor who is ambitious, and Chen Ning & Chen Hai, a twin brother.
She produced the highly popular shooting show that broke the workplace crisis.
As the Asian Championships are about to be held, Shi Xiaoci is accidentally injured and chooses to give her shooting dream to Du Lingfeng, while Tang Xin, with the help of Ding Fang, the provincial team psychologist, solves Shen Qingyuan's knots.
The tit-for-tat between Shen Qingyuan and Du Lingfeng finally release. They stand side by side on the shooting stage with their dreams and love, and launch a higher sprint for glory.