Culture
I Didn't Know How to Have an Abortion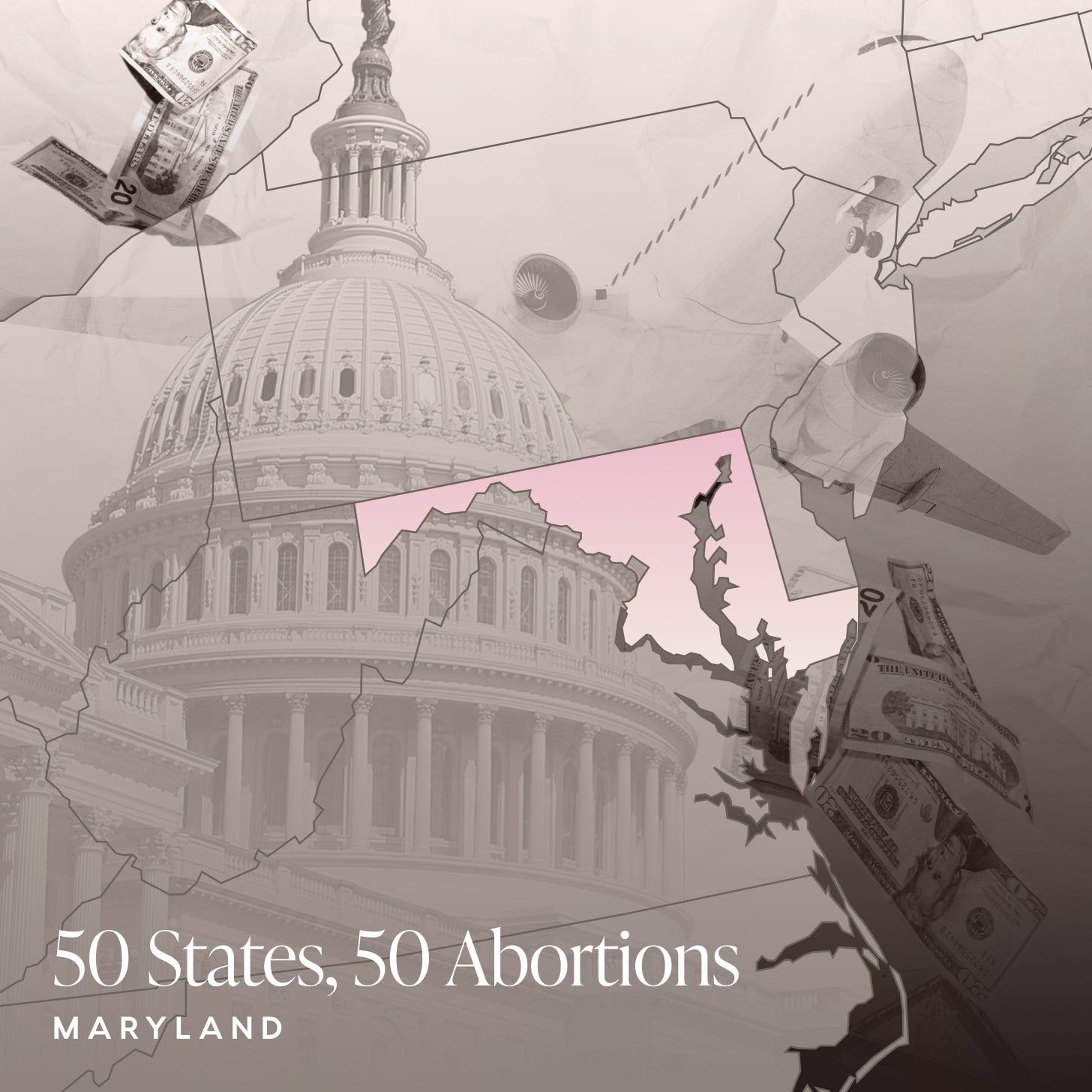 This article is part of POPSUGAR's 50 States, 50 Abortions, a large-scale storytelling project that aims to elevate the voices of people who've had abortions. For more information about how to find an abortion clinic near you, please visit The Cut's abortion service finder.
I've always had a weird experience with birth control: I was on and off it throughout high school, trying different types of the pill, but the hormones were too much for me. The mood swings, weight gain, and fatigue made my depression worse, and living with a mental illness while experiencing those symptoms took a toll on me. In high school and early college, I was only seeing people with vulvas. I knew I couldn't get pregnant, so I wasn't on birth control.
When COVID happened, I left college and moved back in with my parents in Maryland, where I met my boyfriend, now my ex, on Tinder. I found out I was pregnant on Thanksgiving 2020, when I was 21. At work, I started feeling super crampy, assuming my period was coming. I didn't think being pregnant was a possibility at all. I had just met my boyfriend two months prior, so I didn't think it would happen that fast. But just in case, I picked up a pregnancy test, a pad, and Advil on my way home.
I saw the faint line and texted my friend, "Does this mean I'm pregnant?" I had never taken a pregnancy test before. I was in shock. I started laughing because I thought, "There's no way." I called my ex and showed him the test on FaceTime, and he was immediately like, "OK, when are you going to get an abortion?" I was shocked by how blunt he was. As a reproductive justice activist, I am super pro-abortion, but I deserve agency over my own body, at all stops. It actually wasn't a decision I knew the answer to right away. It's OK to have mixed feelings, to not know if it's the first thing you want to do.
When I told my friends, everybody wanted to know right away what choice I was going to make. I was like, "Whoa, can I have some time to think about this? Can I weigh all my options?" After two weeks, I decided to schedule an appointment for an abortion. I was in my last semester of college and still living at home with my parents. I knew this was a partner I didn't see myself with long-term. It was an unhealthy relationship, and he ended up causing many barriers to accessing my abortion.
At the time, I didn't really know what medication abortion was or how it worked, so I decided to go to a clinic for a surgical abortion because that was the option most talked about. It just seemed like the way to go. Only one Planned Parenthood clinic in Maryland offered surgical abortions, and it was in Baltimore, an hour and 15 minutes away from where I lived. I felt too ashamed and embarrassed to tell my parents or sister I needed someone to drive me. I felt I had done something wrong. I was really lost. Eventually, I had to wait for my partner to schedule a day off of work for two weeks later, so he could drive me.
Then I had to get $450 to pay for the procedure. I was working at Planet Fitness for $11 an hour, and my ex was also making minimum wage. We had no money. My parents had insurance and I was on their plan, but if I used it, I was afraid they would be able to see I had an abortion. I called a local abortion fund — an organization that helps cover costs for abortion seekers in need of financial support — but found out they only provided funding to indie abortion clinics, or independent clinics that aren't connected to national organizations like Planned Parenthood. I tried to reschedule my appointment at one of those, but my ex made me keep the initial date because he had already taken off work. I was frustrated. I wished I had easier transportation or a clinic closer to me.
That's when all of the stress, anxiety, and depression kicked in. I worked in reproductive justice — I had done an internship at Planned Parenthood, and I was in a cohort for young activists for reproductive justice. Yet, I still had no idea how to navigate my own abortion.
We ultimately decided to keep the Planned Parenthood appointment. I was overwhelmed and running out of options, and I didn't want to be pregnant or attached to this guy anymore — I needed to get this abortion ASAP. I used my parents' insurance and my credit card to cover the rest of the cost, which was about $280.
Because Maryland has no restrictions, I didn't have a waiting period and wasn't forced to see the ultrasound. My plan was to be sedated, but when I got to the clinic, they didn't have the medication for it. I could reschedule once again, but it had already taken me a while to get the appointment, so I proceeded without the sedation. The procedure was pretty painful and the cramping afterwards was so uncomfortable and tough to recover from. I experienced severe cramping like nothing I'd ever felt before. But I'm grateful for the staff who supported me and held my hand during my entire procedure. That still means a lot to me to this day.
I felt a lot of mixed emotions afterward: relief, excitement, grief. A lot of times grief gets intertwined with regret, but I don't regret my abortion. I'm so thankful for it, but I had to grieve the experience and what could have been.
I really went through this by myself. I didn't know who to talk to about my feelings around this experience — I pushed it down. My friends are great, but they had no idea how to support me. A lot of people don't talk about that. When somebody has a baby, you give them a card and a present, or throw a baby shower. I would've loved a little "I'm thinking of you" or "Here's something to support you" gift. I wish my friends had the tools and resources to support me by just being there with me, offering a heating pad or snack.
Though I did face barriers, I'm grateful for the staff at the clinic who supported me, that Maryland didn't have a waiting period, and just for the access I had. And I'm definitely grateful for the community of abortion storytellers that I have in my life now.
— Alyssa (she/they) (Maryland), as told to Yerin Kim
Image Sources For "Click For Stories From Each State": Unsplash / Aaron Burden, Getty / Sergii Iaremenko/Science Photo Library, Unsplash / Manik Roy and Photo Illustration: Patricia O'Connor