Culture
I Traveled From Louisiana to DC to Get an Abortion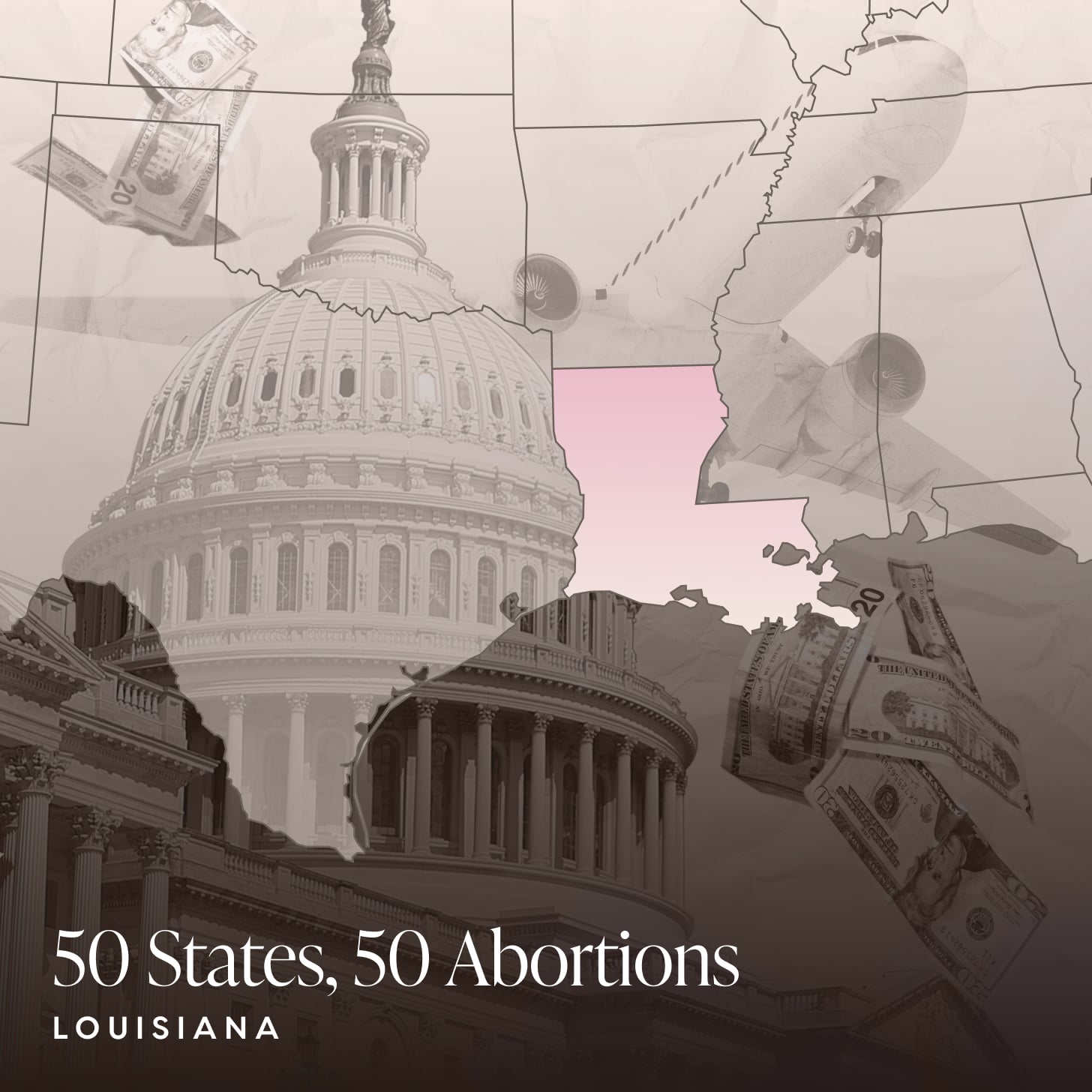 This article is part of POPSUGAR's 50 States, 50 Abortions, a large-scale storytelling project that aims to elevate the voices of people who've had abortions. For more information about how to find an abortion clinic near you, please visit The Cut's abortion service finder.
I was 31 and in one of those in-between relationships; we'd been seeing each other for almost a year, but we weren't necessarily exclusive. Either way, it was not a committed partnership that I felt was conducive to bringing a child into the world.
So when I found out I was pregnant — something I only suspected because I was tired 24/7 and my boobs started to hurt — I knew right away that I wasn't going to continue the pregnancy. It just wasn't the right fit for me at the time.
But living in New Orleans, I knew it would be challenging to get an abortion. I figured my best bet would be to ask my ob-gyn for guidance, so I called and told the receptionist, "Hey, I'm a patient of this doctor. I'm pregnant, and I don't want to be. I wanted to reach out to see what support or resources my doctor can give me."
This was in 2019, and what she said still shocks me: "I cannot believe you're asking me that. I've worked in this office for 40-something years, and we have never been asked that kind of question. We can't help you." I knew it was going to be challenging, but I didn't realize that even my doctor's office would refuse to support me.
My next option was to try a clinic. Luckily, I had a friend who worked in abortion care, and she warned me very frankly: "It's going to be a huge pain in the ass, an ordeal. You'll need to come in and stay all day, and you'll need to take at least two days off of work to do it. Just prepare yourself." So I had an idea that it was going to be bad, but I didn't really understand what I was walking into until we got there.
I went to a clinic in New Orleans, and it was surrounded by all different types of protesters. There were the "nice" ladies who said, "We'll help you, and we'll pray for you. Please let us support you." There were deranged men with megaphones screaming and yelling. There were people singing. It was an absolute circus.
A clinic escort immediately walked up to me and led me to the front door, helping me dismiss the protesters, who kept trying to shove papers in my face and followed me right up to the door. My friend told me that it's easiest if you get there early, so my appointment was at 8 or 9 a.m., but the waiting room was already full. I had brought a friend with me and my computer to do some work, because we knew we would be there all day. After about an hour, they told all the support people to leave because there wasn't enough room for all the patients to wait. People were sitting on the floor.
At that point, there were only three abortion clinics in the state. I think there was just one in Mississippi, maybe one in Alabama, and two or three in Texas. This was before Roe v. Wade was overturned, and people were still driving hours and waiting hours and taking so much time off work just to get medical care.
I spent all day in that clinic for the pretreatment requirements; I'd have to go back the next day and spend another six or eight hours there for the abortion itself. In Louisiana, you have to do mandatory counseling. They tell you that you have other options, that abortion has emotional side effects, that it could increase your chance of cancer. None of which I believe is true, but you still have to sit there and listen.
They're legally required to give you this kind of counseling. Next, they're required to offer to show you the fetal ultrasound and let you hear the heartbeat and to ask you if you want to take the ultrasound image home with you. To me, it seems this is all designed not only to push women to question their decision and also to make the whole process take longer and put even more pressure on the clinics themselves.
The staff was doing the best that they could, but they were stretched really thin. They had so many patients, there was such a huge need, and they were being harassed by protesters while working — which made for a tremendously stressful environment. They were trying to move through patients quickly, so they could care for as many people as possible, but as a patient, it didn't feel great to be just another body being moved through the steps.
I compartmentalized it all until I got home. That night, I was talking to my friend who lives in Washington DC, and who was coming down for Mardi Gras a few days later. I told her about my day in the clinic, and it wasn't until then that I started crying. The whole time I'd been telling myself, "It's fine," and making light of the situation, just trying to get through it all. But as I was telling my friend about it, I realized how truly awful it had been.
She told me: "It doesn't have to be like this, Vikki. You don't have to have that kind of experience. People come to DC for abortions all the time." She had some extra Southwest points, so she booked me on a flight back with her to DC, right after Mardi Gras. I stayed at her house and got my abortion in DC.
The difference in experience was absolutely wild. There were no protesters whatsoever (and the receptionist at the clinic even said it's unheard of there). You go in to get your pretreatment ultrasound, have your abortion, and then you're done in a matter of hours. And it was cheaper in DC than it was in Louisiana — even with the cost of my return flight home. (This was partially because Louisiana won't let you use private insurance to cover an abortion.) It was like night and day.
After the abortion, I felt great — relieved. But a few months later, other states in the South began passing more restrictive abortion laws, and it was really upsetting for me. I knew firsthand how challenging getting access to care could be. I knew the impact this would have on people who didn't have the resources that I had. I was really lucky that I was surrounded by people who supported my decision. But for someone who doesn't have that same support, it can be very isolating to go through something that's designed to make you second-guess what you've decided is best for you and your family.
Many people think abortion is no big deal — including the person I was dating at the time. In some ways that's true: it's a simple medical procedure. But what they didn't understand is how awful the experience can be in places where abortion is so stigmatized. In New Orleans, I had to be screamed at by protesters and sit for hours in a clinic and take time off of work. I don't think people realize how emotionally taxing all of it is and what it feels like to be told that you don't know what you want, that you don't have control of your body, and that other people, or the state, know better than you. And I was an informed patient. I knew what I wanted. I knew my options. I was not going to waver in my decision. Yet it felt like I was being treated like a child rather than an adult.
In the years since then, I've felt very confident in and empowered by my decision. It was the best thing for me at the time, and it allowed me to build a much better life for myself. I was able to save up for and buy a house. I was able to transition my career to where I'm much more financially stable. I don't think any of that would be possible if I was a single mom.
I'm also vividly aware of how my privilege helped me have a better abortion experience. If I didn't have the financial resources and the support system that allowed me to go to DC for my abortion, I would have paid more for my abortion overall and would have been stuck in that clinic, exposed to that emotional and stressful environment for another day.
That said, in the end, I'm glad I went to the clinic that first day. If I had immediately left and gone somewhere where getting an abortion was easier, I don't know if I would be as passionate about abortion rights as I am now. I don't know if I would have realized just how intense and how bad the impact of the overturning of Roe is for people across the US.
In fact, the night before the SCOTUS draft decision came out, one of my former neighbors reached out to me on Instagram and said, "Hey, I'm pregnant. I'm trying to get an abortion. I'm having a lot of trouble getting an appointment in Louisiana. What should I do?" Because I'd been vocal about my abortion on social media before, she knew she could come to me for help.
At that time, some of the clinics in Louisiana were already scaling back. They were really swamped, they had too many appointments, and my neighbor couldn't even get someone on the phone. My friends and I tried to help her find the closest clinic where she could get an appointment. When we woke up the next morning and saw the draft decision, it was really hard for me — for all of us. She ended up going to Florida for her abortion, but it was a scary moment because it foretold how awful this would be for many people once Roe was overturned.
The more I talk about my abortion, the more people tell me that they've also had one. It's nothing to be ashamed of, and talking about it is an important way to help destigmatize it. People don't realize how many people they know and love have had abortions. I hope anyone facing a similar decision right now knows that even though things feel really scary and hard — and it is really scary and hard — there are a lot of people in your corner.
— Vikki Brown (she/her) (Louisiana), as told to Lauren Mazzo
Image Sources For "Click For Stories From Each State": Unsplash / Aaron Burden, Getty / Sergii Iaremenko/Science Photo Library, Unsplash / Manik Roy and Photo Illustration: Patricia O'Connor