Beauty
I Tried TikTok's Treatment Bun: See Photos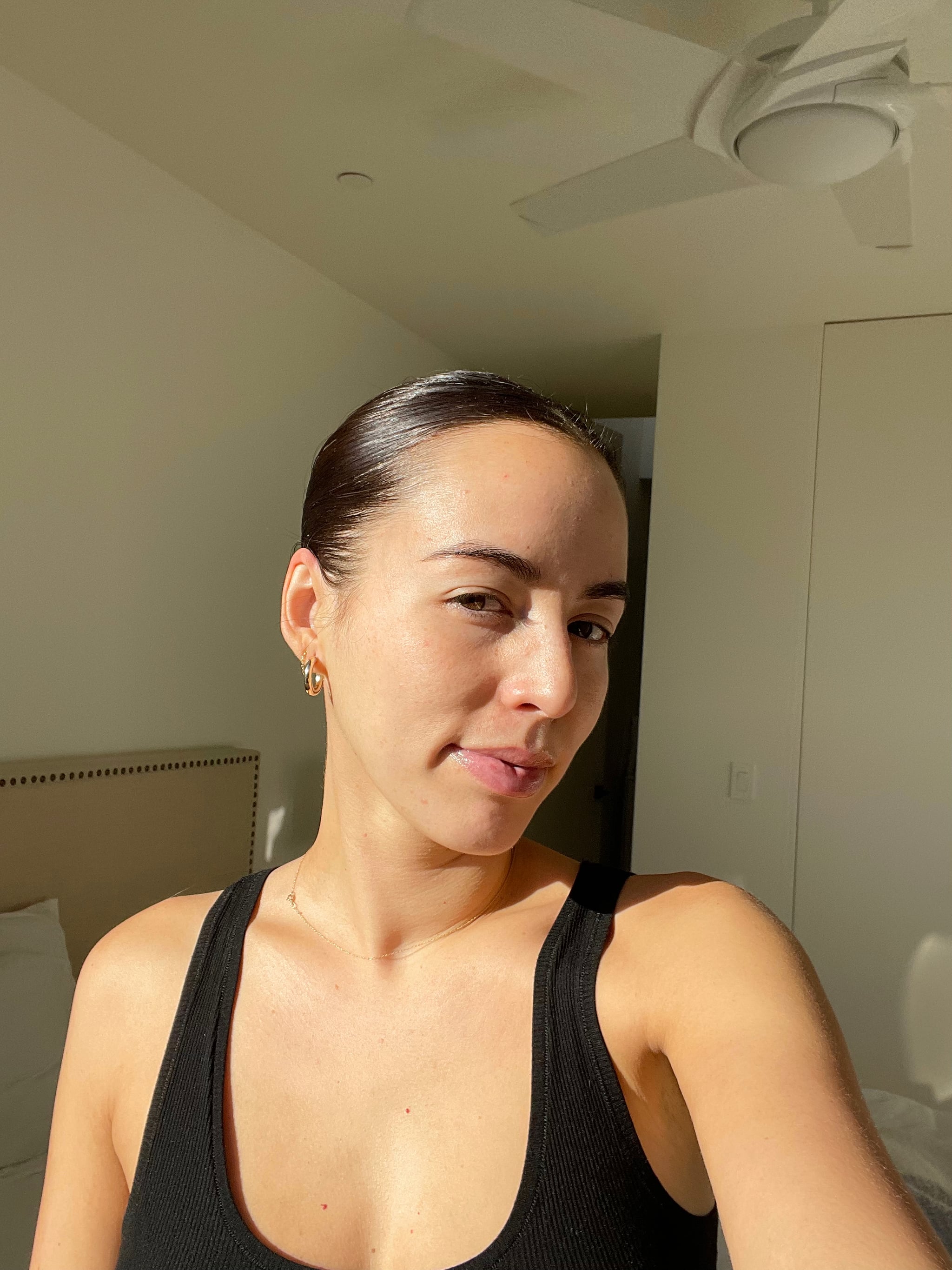 "Treatment buns" are going viral on TikTok.
The style is a slicked-back bun, but instead of using products like pomade or hairspray to keep the hair in place, you use a hair mask.
One editor tried a treatment bun for herself and is sharing her results.
By now, you're probably familiar with the slicked-back bun hairstyle. Lots of celebrities have been seen wearing the trend, including Kim Kardashian, Kendall Jenner, and Bella Hadid, and after testing it out myself, I can see why. It can be worn on greasy-hair days, out on the town, or even just hanging out at home. It's a style that's versatile, and it makes you look put together in just a few minutes.
I only just mastered the style a few months ago thanks to a tutorial from Chris Appleton, Kardashian's hairstylist, but I've been wearing it at least once a week ever since. So when I saw that a new slicked-back look called a "treatment bun" was going viral on TikTok, I was immediately interested in learning more.
A treatment bun is exactly what it sounds like: a bun hairstyle mixed with a hair treatment. You still get the sleek look, but instead of using pomade or hairspray, you use a hair mask. This allows you to condition and treat your hair while keeping it in a style that you can wear all day.
The products you choose to use in your treatment bun can be customized for your individual hair needs. If you're looking to add moisture, try a hydrating mask. If you're looking to repair damage, try a bond-building product. What's great about this hack is that no matter your hair type, texture, or length, there's a way to make it work.
I started out by applying the Briogeo Don't Despair Repair Rice Water Protein + Moisture Strengthening Treatment ($44) from my roots to the ends because I wanted to help strengthen my hair. From there, I layered the Briogeo Don't Despair Repair Deep Conditioning Hair Mask ($39) on top to add extra hydration.
To get a sleeker look, I also added a small amount of hair oil and combed it through to disperse everything evenly before parting my hair down the middle. Next, following Appleton's advice from a previous tutorial, I divided my hair into two sections: the top and the bottom. From there, I smoothed the bottom section back as close to my scalp as possible while pulling it into a low bun. I then did the same thing with the top section of my hair, making sure to keep the part down the middle. After securing everything with a hair tie and a few bobby pins, I went about my day as I normally would.
My hair looked smooth for a full eight hours, and when it was time to take a shower at the end of the day, I followed my regular wash-day routine as usual. When I dried and styled my hair, it was silky smooth and had zero knots, and I didn't have as much frizz around the top of my head as I was used to seeing.
All in all, I've tried the treatment-bun hack over 10 times, and it's something I'll continue doing in the future. I wear my hair in a slicked-back bun at least once a week, and adding treatments into the mix has helped make it more manageable. I would recommend this trick to anyone who loves the sleek low-bun hairstyle but wants to get the benefit of caring for their hair at the same time.
Image Source: POPSUGAR Photography / Renee Rodriguez