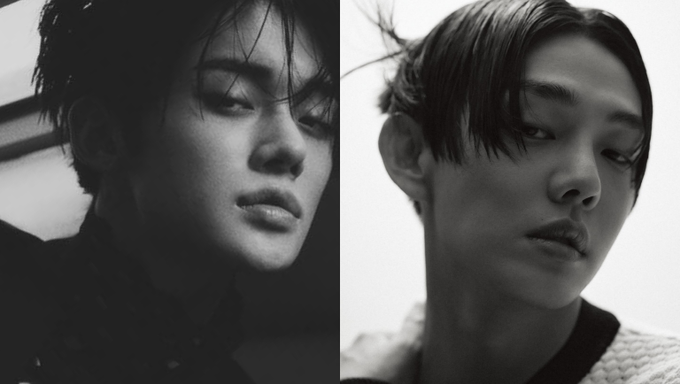 Welcome to the ninth article of Kpopmap's bi-weekly series "Idol Lookalike"!
This series will look at two popular K-Pop idols that are known for looking like each other and how similar their visuals are. However, there may occasionally be actors compared as well. 
NCT's Jeno and THE BOYZ's Eric opened the series for us, followed by BLACKPINK's Jennie and aespa's Ningning, ITZY's RyuJin and Han SoHee, TWICE's DaHyun and Rocket Punch's YeonHee, The Rose's WooSung and Hwang InYoup, ENHYPEN's Ni-Ki and Jung HoYeon, BTOB's MinHyuk and TXT's SooBin, and BTS' Suga and SEVENTEEN's WooZi.
This week, readers voted for TXT's YeonJun and actor Yoo AhIn in our bi-weekly poll (at the end of the article) to be featured this week. Fans believe they have a big resemblance to each other. 
TXT YeonJun is known for his hip and trendy aesthetic. Yoo AhIn is known for his artistic self-expression, too. 
Firstly, the two have similar noses, lips, and overall facial structures.
YeonJun and Yoo AhIn also have similar artistic aesthetics and styles. They have rocked similar styling on occasion.
Their face and ear shape especially add to their resemblance. 
What do you think of their visuals? Do you see the resemblance?
Are there any other Korean celebrities that you think look alike? Let us know in the comments.
Who would you like to see in the next "Lookalike" article?
~ Feb 24, 2022 (KST)
※You can vote multiple times without sign in.
EVERGLOW's E:U and CLC's Sorn
SF9's Yoo TaeYang and Lee DongWook
NCT's SungChan and Stray Kids' Lee Know
TWICE's Tzuyu and Kim MinJu
SEVENTEEN's Joshua and OH MY GIRL's YuBin
2PM's JunHo and Lim YoungWoong
SHINee's Onew and Lee WonGeun
Stray Kids' SeungMin and DAY6's WonPil
Important notice: the vote only decides who will be covered in the next article. Everyone in the poll will be covered in the series eventually. Suggestions will also be gradually added each week.
Source link