Entertaiment
K-Pop Besties: Jeon SoMi And TWICE's ChaeYoung, NaYeon, And The Other Members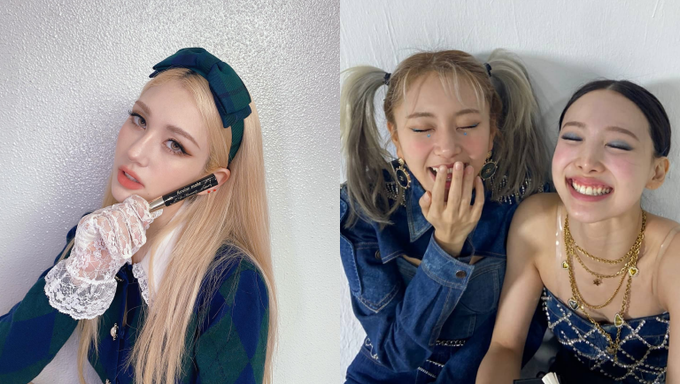 Welcome to the fifth article of Kpopmap's monthly series "K-Pop Besties"!
This series is celebrating all of the different friendships that exist in K-Pop. We will look at some of the moments when K-Pop idols showed off their close friendships with one another.
SHINee's Key and Girls' Generation's TaeYeon started off the series for us, followed by ASTRO's Cha EunWoo, SEVENTEEN's MinGyu, and the 97 liners, PENTAGON's Kino and WOODZ, and BLACKPINK's Lisa, GOT7's BamBam, and the Thai line.
This month, readers voted for Jeon SoMi and the TWICE members in our monthly poll (at the end of the article) to be featured in this month's article. If you are a new K-Pop fan you might not know how their friendship started. Let's take a look back at their friendship.
SoMi became friends with the members of TWICE when they all participated in the same survival show in 2015 called "SIXTEEN". This is the show where the resulting debut group was TWICE. Other contestants who are famous and participated in that show at the time include ITZY's ChaeRyeong and her sister Lee ChaeYeon. 
Unfortunately, SoMi did not make the final cut to be in the group but later went on to participate in the survival show "Produce 101" which is where she gained even more popularity. Despite moving on, she remained friends with the TWICE members.
In fact, there is even a video clip of the members reacting to SoMi's appearance on "Produce 101".
TWICE and SoMi have consistently supported each other's careers since their "SIXTEEN" days. They take selfies whenever they reunite, do each other's dance challenges, celebrate each other's wins, and still keep in contact.
In fact, when TWICE won their 5th win at "Music Bank" for their hit song 'Cheer Up', SoMi stayed on stage a little bit longer to celebrate with them and did the choreography with TWICE's JeongYeon and Sana.
Among the TWICE members, SoMi is particularly close with TWICE's ChaeYoung. 
They even have a vlog together as part of SoMi's reality show "I AM SOMI" where they go on a brunch date together.
In the video, they cutely joke about how the two of them don't match as friends because they always miss each other very much but when they meet up have no idea what to do. They are like a cute relatable sister duo. 
It is clear that they have a strong bond.
SoMi is also known for her popularity and friendships with various K-Pop idols but has said that she is the closest with the TWICE members.
Here is the video where she talks about how she feels they are her only close friends in the industry (from 08:43).
She also once mentioned that when she is having a hard time, the people that she relies on and calls a lot are TWICE's ChaeYoung and NaYeon.
This is the interview where she speaks about it (from 1:43).
Recently, ChaeYoung and NaYeon even did SoMi's 'XOXO' challenge with her on TikTok…
… and SoMi did their 'SCIENTIST' challenge with them, too.
It is awesome to see this 7-year-old friendship still thriving.
What do you think of these besties? Isn't their friendship just adorable?
Are there any other K-Pop idol friendships that you would like to see featured in this series? Let us know in the comments.
Who would you like to see in the next "K-Pop Besties" article?
~ Feb 25, 2022 (KST)
※You can vote multiple times without sign in.
Park HyungSik and BTS's V
Dreamcatcher's SuA and A.C.E's Jun
Block B's P.O. and WINNER's Mino
Weki Meki's Kim DoYeon and Choi YooJung
BLACKPINK's Jennie and Jung HoYeon
Important notice: the vote only decides who will be covered in the next article. Everyone in the poll will be covered in the series eventually. Suggestions will also be gradually added each month.
Source link