Entertaiment
K-Pop Idols Wearing High-Fashion: Highlights Of February 2022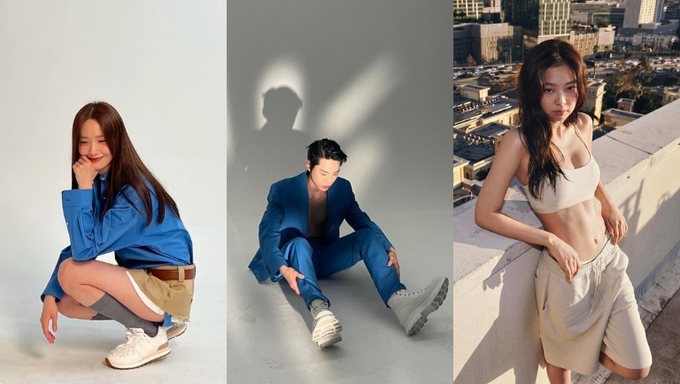 K-Pop and high fashion have always been a match made in heaven. Global luxury companies and beauty houses are appointing K-Pop idols to be brand ambassadors for their companies due to the rising popularity and influence of the music genre globally. BTS for Louis Vuitton, aespa for Givenchy, and BLACKPINK's JiSoo for Dior are some of the A-list K-Pop idols representing these household fashion names. Not only that, many idols can look stunning in luxury items provided to wear for music show performances, photoshoots, and award ceremonies. 
This February has been a great month for K-Pop fans and fashion lovers, which makes total sense given it's the month of fashion week. Countless idols were sporting outfits and pieces by high-fashion companies for magazine covers and new campaigns. We as fans could not help but admire and praise the gorgeous looks idols wear.
To end the month on a good note, Kpopmap is highlighting some of our favourite high-fashion looks we've seen on K-Pop idols in February.
As the brand ambassador for numerous fashion and beauty lines and the new face for Soju CFs, the impact of BLACKPINK's Kim Jennie is incomparable. Being a model for Calvin Klein is one of the K-Pop star's many accomplishments. It was announced on Feb. 15 on Jennie and Calvin Klein's social media accounts that she would be featured in the esteemed brand's Spring 2022 campaign alongside a huge ensemble of celebrities including Dominic Fike, Solange Knowles, and Arlo Parks. Having collaborated with the brand before, Jennie looks phenomenal in these casual and comfy outfits that are the brand's signature look. Jennie is proving time and time again she is indeed K-Pop's fashionable "3rd Gen it girl."
ONCEs have been wishing for the TWICE members to take on more modelling and solo activities and Sana has made all of our dreams come true. Sana was shown modelling pieces in anticipation of the Prada 2022 Fall/Winter Womenswear show presented by Miuccia Prada and Raf Simons on Feb. 24. Sana is able to perfectly embody the editorial and sleek glamour of a fashion model in this all-black Prada look. She is also holding the brand's stunning Re-Edition 1995 bag. Maybe this collaboration in the brand could mean her becoming their brand ambassador one day. We can't help but get excited at the idea of seeing more of Sana as a model.
Another idol associated with Prada, NCT's JaeHyun is a frequent collaborator with the high-end brand. The NCT member has posted many photos of himself wearing full-Prada outfits on his social media and fans fall in love with the idol's handsome looks every time. This month, JaeHyun also decided to post himself on his personal Instagram wearing items from Prada in anticipation of the F/W show. With this casual street style look, the Prada Saffiano Triangle bag he's wearing became the main focal point of the post. JaeHyun looks so effortlessly cool while modelling the white classic bag. Everyone cannot wait for all the new looks JaeHyun will wear as long as he keeps his friendship with the luxury brand.
The NCT members are making waves in the fashion world. Not only is NCT's DoYoung a great vocalist, but he also is considered a style icon by many fans. Earlier this month, DoYoung released previews on his Instagram of his pictorials for the GQ Korea March 2022 issue. The pictorials were done in collaboration with Alexander McQueen, a renowned brand known for its avant-garde and experimental fashion shows. What we love about these looks is how they blur the lines between what is considered "feminine" and "masculine," with the bright colours and silhouettes exuding an elegant playfulness. 
K-Pop fashion is known for breaking gender norms and endorsing individuality in fashion so it's refreshing to see DoYoung wearing more experimental pieces from the brand. DoYoung later allowed fans to see behind-the-scenes images on his Instagram. DoYoung's captivating poses and posture would make him a great runway model if he decided to pursue that endeavour in the future.
5. IU – Gucci
IU has always been a woman of many talents with her songwriting credits, vocal abilities and acting credits. We were especially impressed with the Gucci ensembles she wore this February. Currently one of Gucci's brand ambassadors, IU is wearing items from the French couture brand's "Love Parade" 2022 collection for Marie Claire's March 2022 issue. The idol posted a cute sneak peek of the pictorials on her social media, the post garnered thousands of likes from fans. The photoshoot's warm colours and nature-themed props are making us all wish Spring was already here with the florals and warm tones. 
The vintage-inspired and dainty outfits worn by IU for the cover are very in line with her musical sound and maturing image as an actress and singer-songwriter. Seeing how the "Nation's Little Sister" has evolved her artistry and her fashion sense has been a joy to watch.
ASTRO member and actor Cha EunWoo was a hot topic this month after photos of him as the male cover model for the W Magazine March 2022 issue were released. Cha EunWoo was selected as Burberry's brand ambassador just last year and has been spotted donning items from the brand. This W Magazine cover has Cha EunWoo embracing many different styles from the brand's Spring/Summer 2022 collection. The one look that caught many fans' attention was him wearing the brand's new faux nose and lip piercing cuffs. This look was definitely divisive, to say the least but it's undeniable Cha EunWoo still manages to pull off the look. His visuals are definitely no joke.
Last but certainly not least, Girls' Generation's YoonA had everyone's jaws on the floor when they saw this chic look on her. So much so that fans took to social media to praise her visual and modelling talent. Revealed as the cover model for the ELLE Magazine March 2022 issue alongside fellow "Big Mouth" costar Lee JongSuk, YoonA is rocking this head-to-toe Miu Miu look. The Micro Miniskirt she's wearing is from the brand's Spring 2022 runway and has become a trending piece in the fashion space. It's no surprise YoonA is wearing Miu Miu since she was appointed as one of their brand ambassadors last October. Given the title of "Nation's Ideal Type" for her stunning visuals and being the center of the "Nation's Girl Group," YoonA is cementing her place as one of the most relevant K-Pop idols and Korean actresses in the industry.
Are there any other idols sporting high-fashion clothing that you loved this month? Let us know in the comments section down below