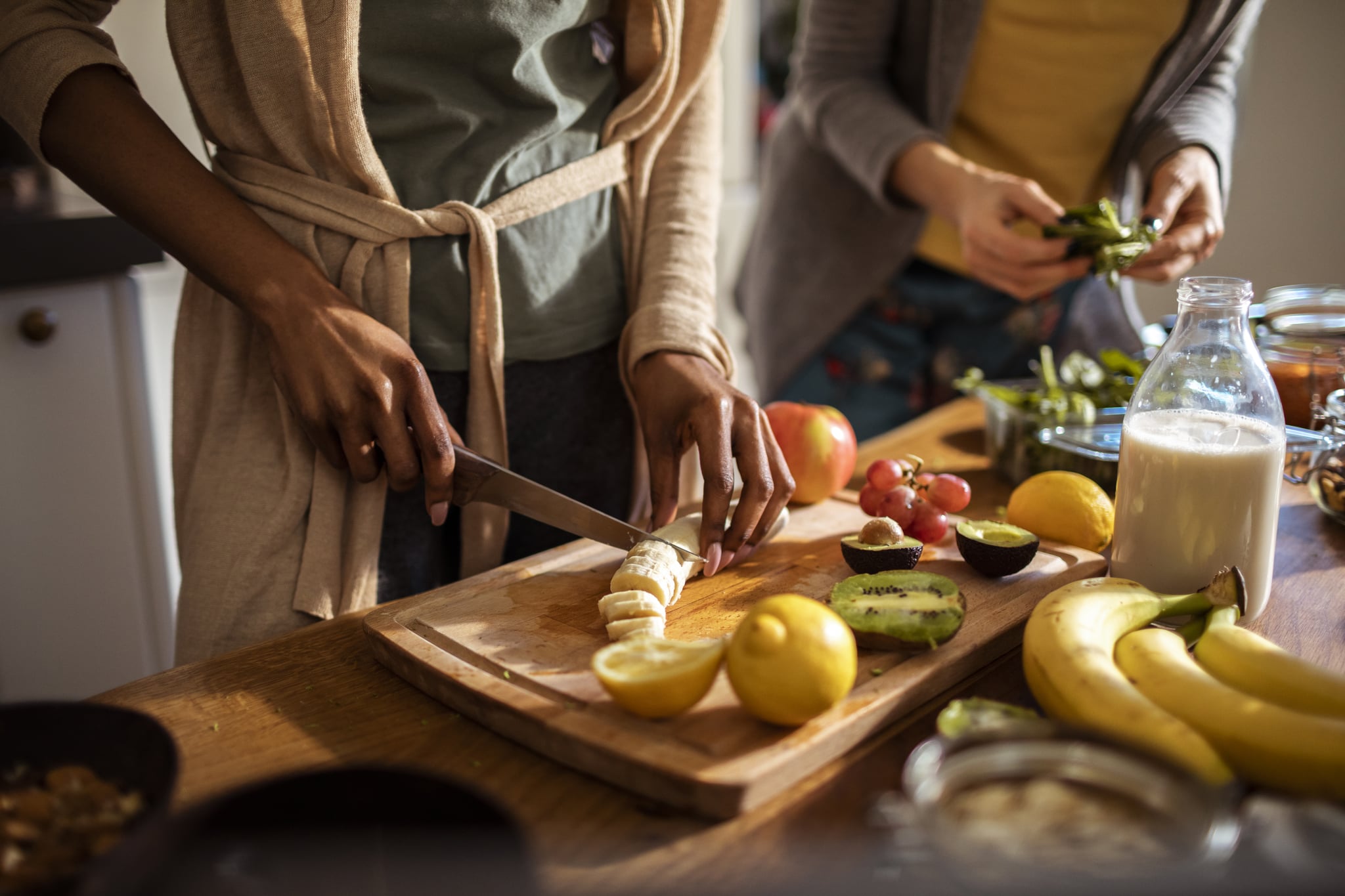 Do you ever stand in front of your fridge and pantry, staring at the food inside, asking yourself, "What can I cook with what I have?" but drawing a blank? Of course you do — everyone does. Well, the nights of random groceries are about to get a whole lot better, because there are actually tons of websites and apps that will give you recipes by ingredients — meaning, they'll tell you exactly what you can make with the ingredients that are in your fridge and pantry. Recipe generator sites and apps are the best way to answer the "What can I make with what's in my fridge?" nights. While a kitchen sink salad is certainly always an option, sites that function as a recipe finder by ingredients can help you elevate that leftover rice and random veggies by offering up dish options you may not have considered. Bonus: any of these apps are incredibly useful to minimize waste in your kitchen.
They're also free, and super easy to use. All you have to do is enter the ingredients you have (or just the ones you want to cook with), and a recipe generator site or app will give you recipe options with those ingredients. The recipes that come up may include dishes that only require the ingredients in your fridge, or they may also offer up some recipes that require a few additional ingredients — often staples that most people have on hand, like spices or butter.
Enter ingredients, get recipes: it's that simple. So, what are you making for dinner tonight?
1. SuperCook
SuperCook is probably the most well-known app to find recipes based on your ingredients. It's incredibly easy to use and has ultra specific filters to make your recipe search more personalized. You can narrow it down by choosing your main star ingredient or even what type of cuisine you'd like to try. SuperCook is also available as a website browser.
2. Magic Fridge
Magic Fridge (also known as Frigo Magic) is a French app with more than 4,800 recipes. It allows you to specify the number of people you'll be cooking for and even has a "memo" feature that lets you know what ingredients are in-season, and provides nutritional information for each recipe too.
3. BigOven
The BigOven app lives up to its name, by being home to more than one million recipes. It comes with a few handy features like the "Use Up Leftovers" option, where you type in what leftovers you want to finish off without, you know, feeling like you're eating leftovers again.
4. AllRecipes Dinner Spinner
Allrecipes has an outstanding recipe database and a huge community of passionate cooks sharing their recipes, ideas, and dishes. The app has a "Dinner Spinner" feature that allows you to specify the dish type, ingredients, and the duration of the process before it's ready. You can also omit specific ingredients you don't want showing up in the results, for those days when you're simply not willing to run out for butter or garlic.
5. Yummly
The Yummly site provides AI-driven personalized recommendations by asking you for your favorite cuisines, food allergies and diets, personal tastes, and even cooking expertise level. Like all of these apps, Yummly helps reduce food waste by allowing you to search recipes by ingredients in their search bar.
— Additional reporting by Clara Amelia