Living
Threshold Vine Stripe Peel & Stick Wallpaper I Editor Review
This article isn't the first time I've delved into my journey of making my small apartment feel like home. Recently, I waxed poetic about a chic yet versatile Target bench that was the finishing touch my bedroom was missing and then monologued about how a textured pouf instantly leveled up the room's coziness. Now, I've turned my attention to the most-utilized room of my home that has also received the least amount of attention design-wise: my itty-bitty office. It's windowless and, thus, dark and lifeless, the opposite of what I need as someone who's paid to flex my creative juices all day.
So while brainstorming how I could transform it into a more exciting space, a popular decor hack came to mind: peel-and-stick wallpaper. I've come across it time and time again on TikTok (our beauty editor even used it to transform her kitchen), and I've always been amazed by the before-and-after results. After surveying Target's offerings, I landed on the Treshold Vine Stripe Peel & Stick Wallpaper ($34) and recruited my fiancé to help me put it up. Ahead, I share more about the experience and why you should consider it, too.
What I Like About This Peel-and-Stick Wallpaper
Rather than using this wallpaper to cover my entire office, I decided to create a statement accent wall. Because ours measures 100 inches by 102 inches, we had to purchase three packages of peel-and-stick wallpaper at 198 inches by 20 inches per pack. We were able to cut each of those into six vertical sheets before we carefully and slowly applied each section to the wall, little by little. As my partner guided the wallpaper onto the wall, I pressed it and then smoothed out any bubbles with a hardcover book. (We didn't have a legitimate smoothing tool on hand.)
What's so convenient about this product is that it peels off and resticks seamlessly. Admittedly, sticking it to the wall evenly required some trial and error, but the process got easier as we went. If we didn't have the ability to peel it off after sticking it down, we would have been, for lack of a better word, screwed. The whole process took about two hours from start to finish, and by the end, I had verbally proclaimed my love for it — amazed by how much livelier the room felt. For context, here's a look at how the office looked before: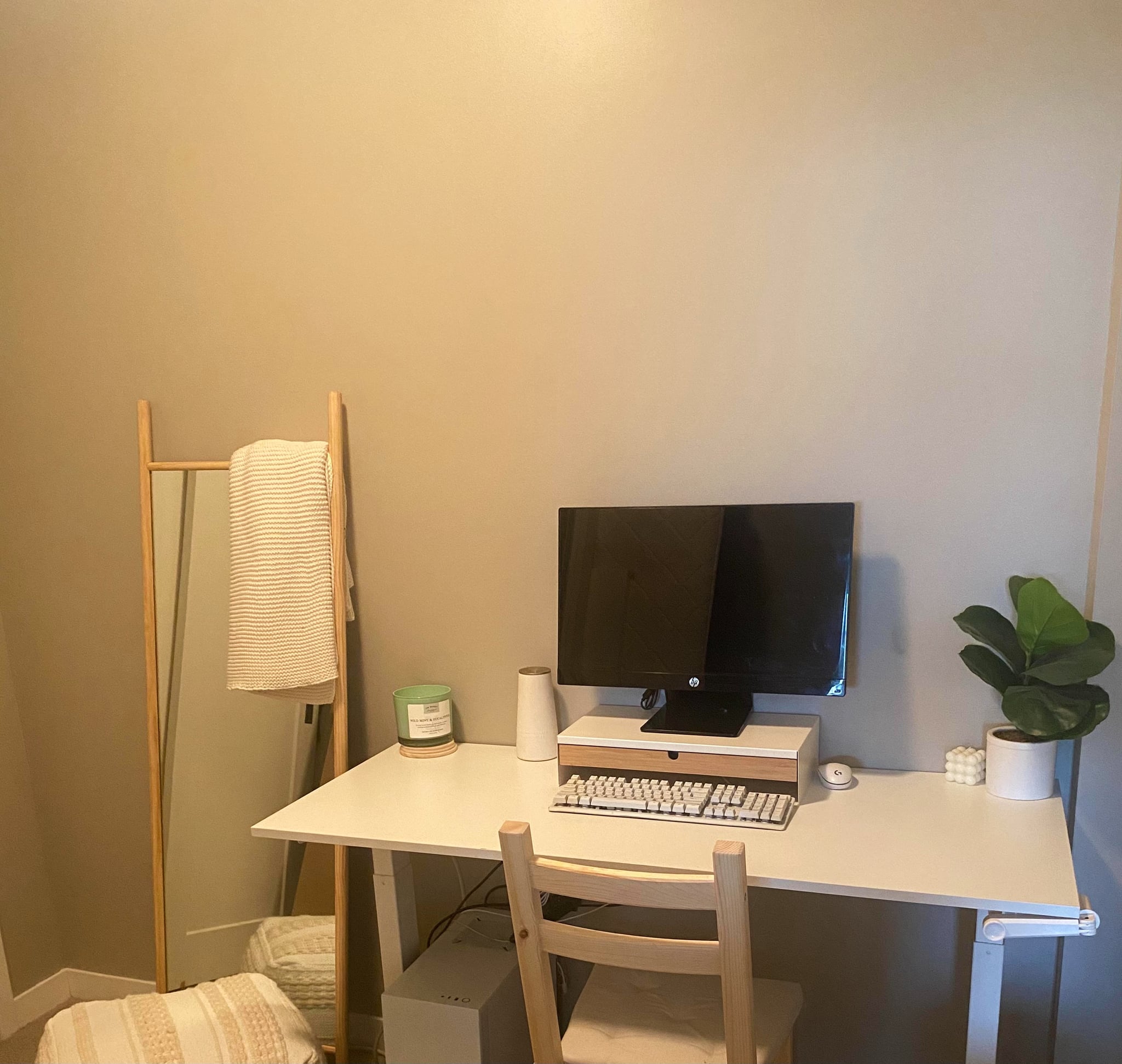 What's Worth Noting About This Peel & Stick Wallpaper
Most notably, applying your peel-and-stick wallpaper may require teamwork and some additional tools that aren't included in your purchase. You'll need a tape measure, scissors, a smoothing tool, and potentially a step stool or ladder, depending on the height of your walls. You might also want a level to ensure the panels are applied straight.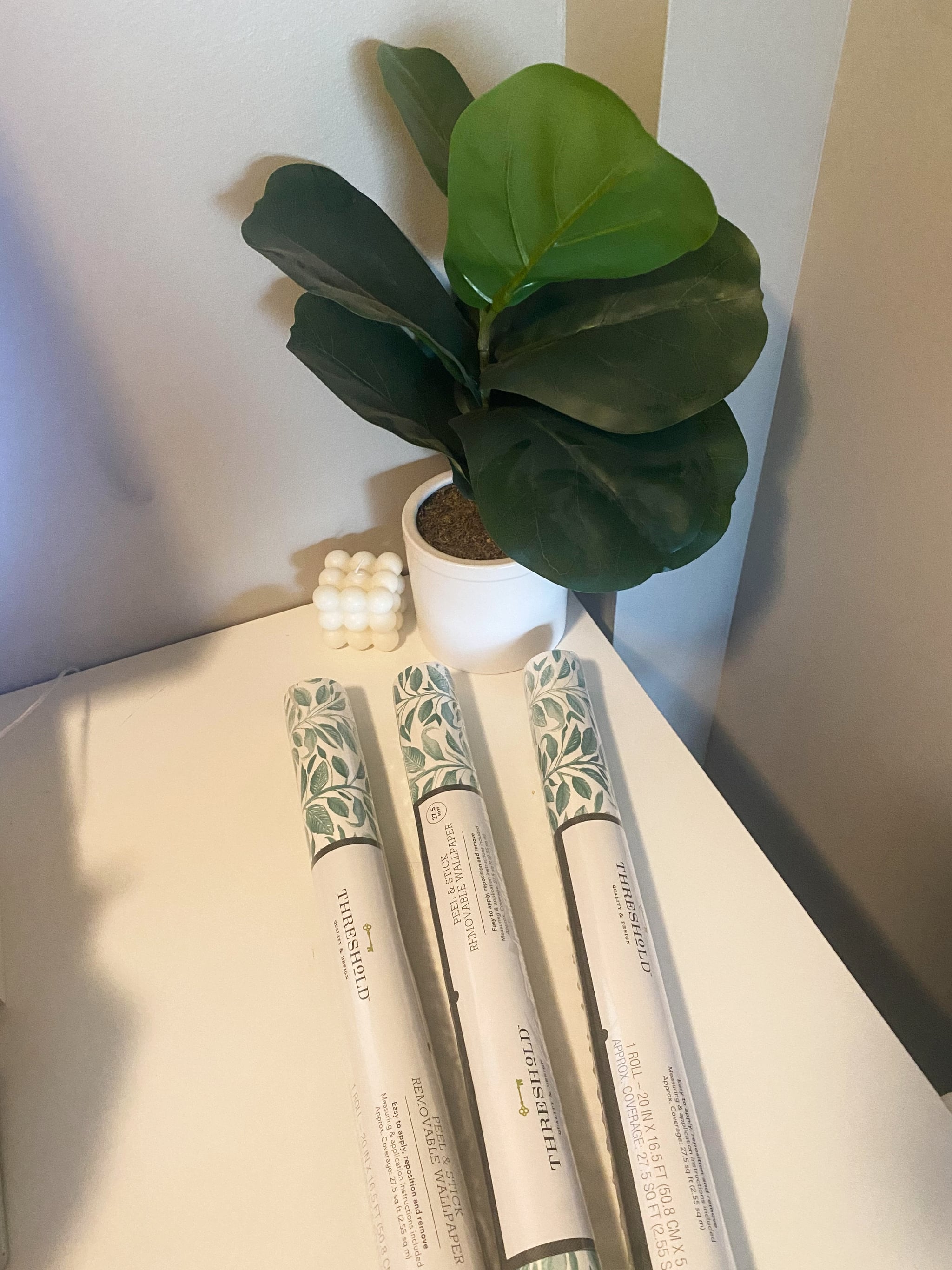 Who This Peel & Stick Wallpaper Is Best For
Peel-and-stick wallpaper is best for those looking for a stress-free alternative to "real" wallpaper. It's especially great for people who are renting their space — like me — because removing it is a breeze. You simply pull off a corner, and it peels right off like a sticker. Yes, it's really that easy, and no, you don't need to worry about racking up dreaded incidental fees.
Additional Details
Target offers so many different patterns of peel-and-stick wallpaper. Two of our other favorites are Herringbone Stripe ($34) and Coral ($34).
Each package's maximum coverage area is 27.5 square feet.
The wallpaper is both washable and stain-resistant.
Rating:
Image Source: POPSUGAR Photography / Marisa Petrarca