C-Drama
To Our Dreamland of Ice – Ou Hao, Liang Jie
[ad_1]
To Our Dreamland of Ice is directed by Bai Tao, and the chapter of "Dong Ao Meng Xiang" stars Ou Hao, Liang Jie, and Yin Liyuan, with Jiang Xin in the special appearance and co-starring Zhang Junming, Li Jian, Liang Aiqi, Liu Xianda, Cai Zilun, Wan ZXilin, Liu Weihua, and Zhou Dehua.
The "Bing Xue Qing Yuan" chapter starring Chen Ruoxuan and Peng Xiaolan, Liu Tianzuo, Shao Bing, and Mao Junjie in special roles, co-starring Wang Xiuzhu, Hei Ze, Liu Xiangjing, Lin Peng, Luo Wei, Guo Jiaming, Wei Lisi, and Ren Yixuan.
With the theme of " China and the 40 years of the Winter Olympics", the drama tells the story of three generations of a family's love for snow and ice, writing the journey of comprehensive preparation for the Winter Olympics and showing the spirit of the Winter Olympics, which is the harmonious development of man and nature.
Details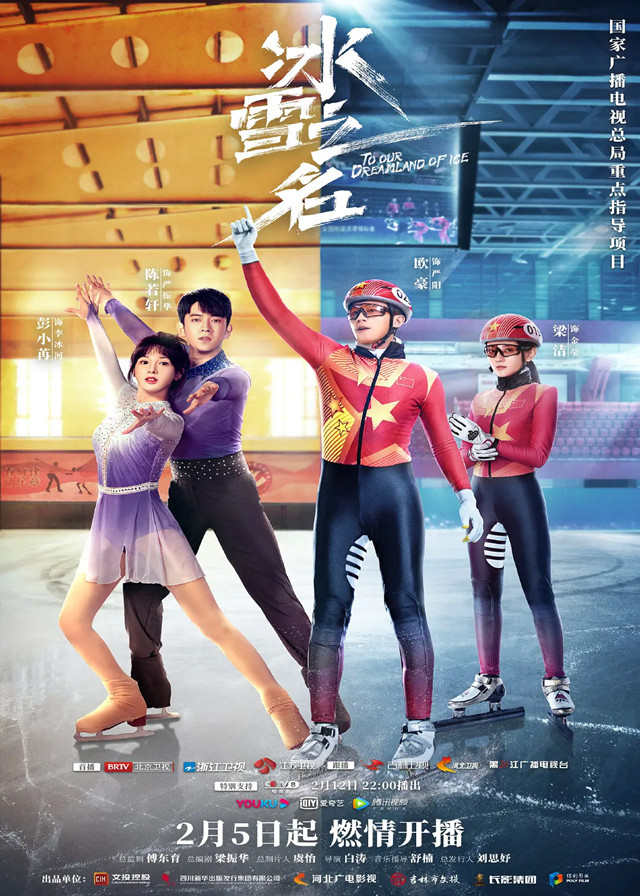 English Title: To Our Dreamland of Ice
Chinese Title: 冰雪之名
Genre: Urban, Sport
Episodes: 36
Duration: 45 min.
Director: Bai Tao
Writer: Liang Zhenhua
Producer: Tao Zhu
Product Company: Beijing Wentuo Juzhi Pictures and Culture Co., Changying Group
Broadcasting Website: Huashi TV(Youtube)
Released Date: February 5, 2022
Cast

Chen Ruoxuan as Yan Zhenhua

Wang Xiuzhu as Qu Jie

Hei Ze as Tang Jian

Lin Peng as Li Yong

Luo Wei as Gai Lina

Liu Tianzuo as Yan Senlin

Shao Bing as Yan Yiguo
Synopsis
In 1980, village teacher Yan Yiguo's son Yan Zhenhua and student Tang Jian were selected to the key sports school in Harbin.
Growing up in the snowfields, the two men fought their way to the top with hope, but Tang Jian lost in speed skating because of an accident.
Yan Zhenhua and Li Binghe, a girl from the city, became a pair of skating partners and fell in love.
But after all the twists and turns, they regrettably broke up, Yan Zhenhua turned to struggle in short-track speed skating, and the three of them eventually went their separate ways.
In 2019, China was making ample preparations for the 2022 Winter Olympics.
Yan Zhenhua's son Yan Yang was selected for the national Olympic training camp for short track speed skating from a local club and met outstanding players such as Tang Han and Jin Ying, as well as champion coach Chen Jin and team doctor Li Nianxue.
He worked his way up from being a training partner for the women's team to an official member, gradually gained a deeper understanding of sportsmanship and Olympic spirit, and found his father's story to be more determined in his struggle, and also gained love and friendship.
The previous generation's journey to the Winter Olympics was full of endless regrets, while the new generation of ice skaters took over the baton and struggled on!
[ad_2]