Beauty
What It's Like to Go to a Hammam Spa With Photos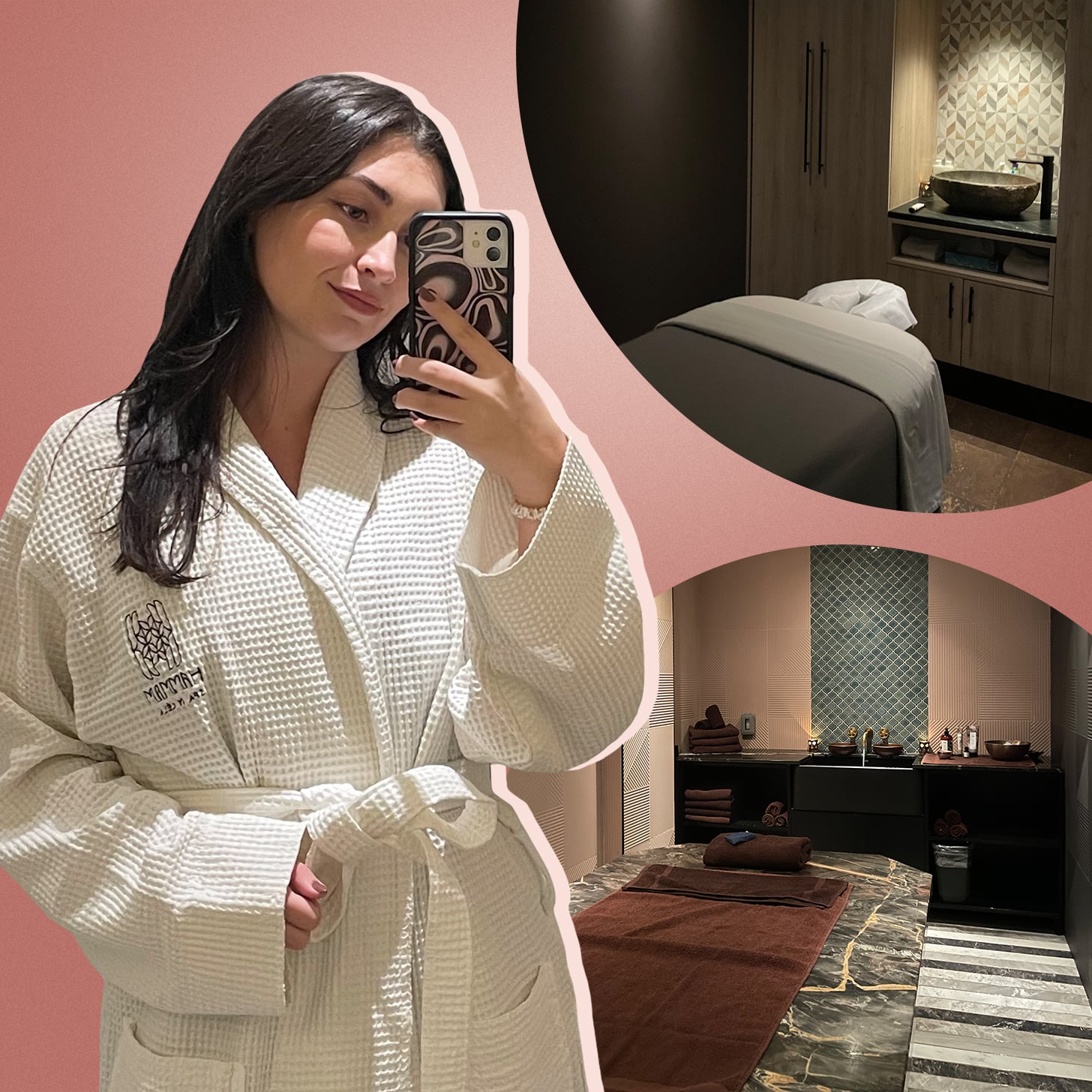 Image Source: POPSUGAR Photography / Jessica Harrington and Photo Illustration: Aly Lim
I will never (ever) turn down an invite for a good ol' spa day. While I'm lucky enough that through my job, facial and massage opportunities come my way frequently, I had never been to a Hammam-inspired spa to until Hammam Spa by Céla extended me an opportunity to experience a few of the traditional treatments they offer.
Hammam Spa by Céla is owned by Celine Tadrissi; she's also the founder of Céla Beauty, a brand she developed to serve a need in her spas and now carries a variety of skin, body, and hair products. The spa has two locations in Toronto, Canada, and draws inspiration from ancient Eastern European spa practices, which usually incorporate components of steam rooms and public bathing areas. The space is filled with dark, lavish decor, relaxing music, aroma therapy, and even Turkish snacks and tea. As soon as you step inside, you're transported away from everyday life.
During my visit to the Hammam Spa by Céla, I underwent three different treatments from the spa menu. When you first enter, you're shown to the changing room and given a robe, slippers, and Turkish bath towel to wrap around yourself. The first treatment I got was the full-body Céla Essential Balm Massage to work away any muscle tightness and tension I had. This treatment uses the brand's hero product, the Céla Essential Balm ($36). All of the massage services are performed by licensed registered massage practitioners (RMTs), and they had a vast knowledge of the body, allowing them to customize my treatment to my needs.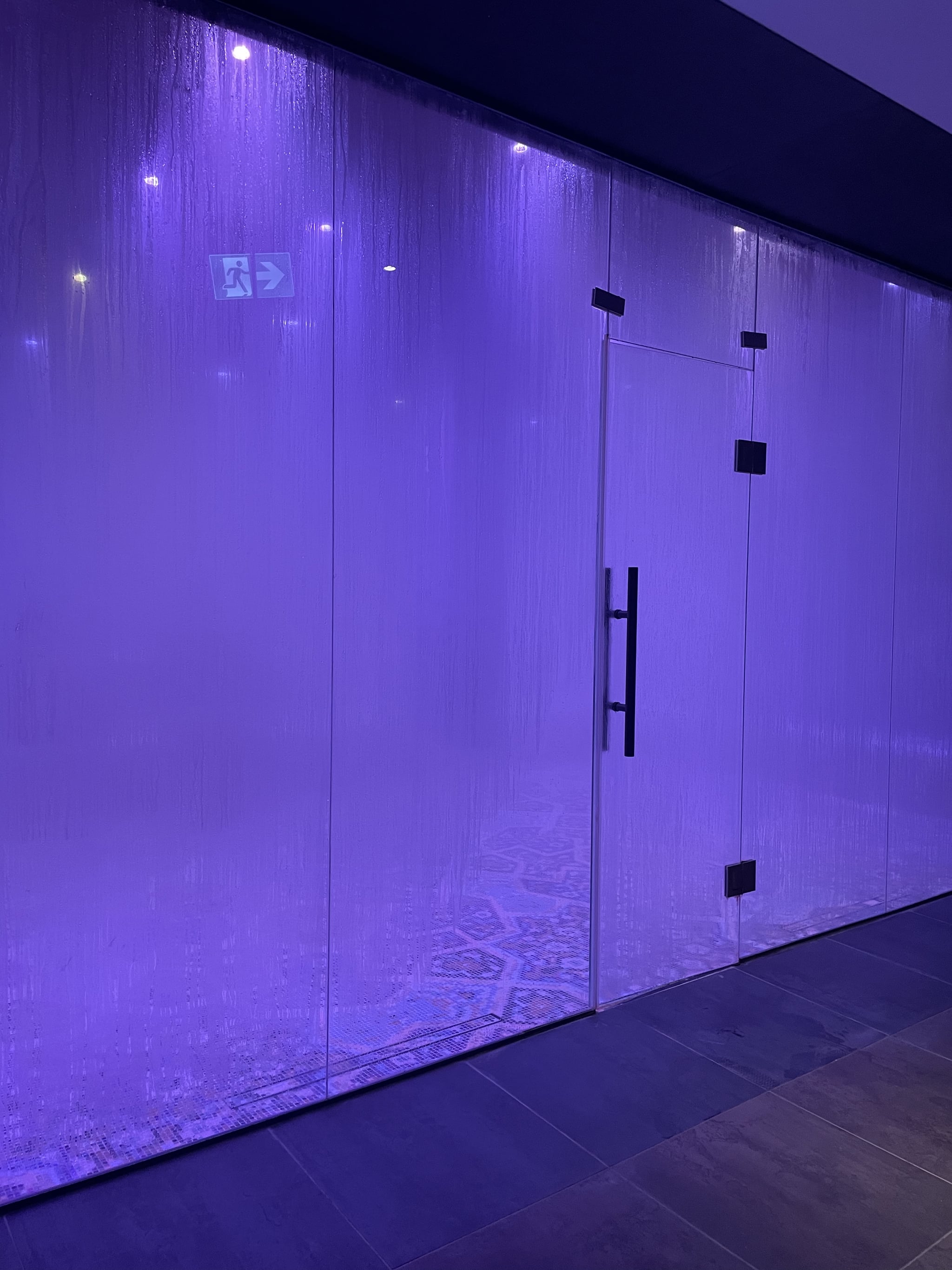 Image Source: POPSUGAR Photography / Jessica Harrington
After my first treatment was done, I had time to unwind in the spa's tea room, which features traditional treats like baklava. I then made my way to the steam room to kill some time before my next treatment only to discover this was an entire experience in its own right. The dark room was heated to 102 degrees, creating a thick layer of steam, and featured red and blue light therapy to supplement the relaxing vibes. The scent of eucalyptus essential oils also filled the room, aiding in decongesting and fatigue. After just 10 minutes of sitting there, my body felt more relaxed and my mind was calmer — I didn't want to get out.
My next treatment was the Céla Seed to Skin Ritual, which was modeled after a traditional Turkish bath. Leading up to it, I was told I was in for a unique treat and very little additional information was shared with me so that I could be surprised. It ended up being unlike anything I had ever experienced before. The treatment washes, soothes, and hydrates your body, leaving you feeling truly rejuvenated.
For this, I was given a pair of disposable underwear and a towel to cover my chest. Then I laid face-up on a large heated marble table. The treatment starts with cool water being poured over your head for stimulation, followed by warm water over your entire body. Once wet, a cloud of mandarin and jasmine-scented bubbles is placed over your body — almost like a bubble bath without the tub of water. The massage therapist then rubbed me down, using the foamy bubbles for a full-body cleanse, followed by another round of warm water to rinse off. At first my mind went, What is happening?, but that quickly turned to, This is actually really, really nice.
The next step is exfoliation, which is done with the Céla Seed to Skin Scrub ($34). My practitioner worked on every inch of my body, from neck to toe, and then rinsed the scrub away before having me flip over so the entire process could be repeated on my backside. That wasn't all though. After cleansing and exfoliating, it was time to moisturize, which required my entire body and the marble table to be dried off before continuing. Then, the Céla Essential Balm was used to hydrate my freshly exfoliated skin from front to back.
Image Source: POPSUGAR Photography / Jessica Harrington
On my second visit to Hammam Spa by Céla, I went back into the steam room. This served the dual purpose of softening my skin ahead of my third treatment, which was the Céla Mineral Facial. This lasted 60 minutes and featured a cleanse, mask, and facial massage, as well as a brief neck and hand massage.
Though quick, I left my two-day excursion feeling completely relaxed, rejuvenated, and restored. My body, which is usually tense and a little tight due to sitting in front of a computer for hours (and hours, and hours) a day, was loose and my skin felt baby-smooth. It was truly a physically and mentally transformative experience .